Safety Mats
At Mats Nationwide, we stock a wide range of safety mats in a variety of styles suitable for almost any industry. Whether you require non-slip mats designed with anti-fatigue qualities in mind for a workspace, or anti-slip mats for a swimming pool area, we can help.
Read More
Hard-wearing, outdoor rubber safety mats are also available for those who want to minimise the amount of dirt and wet brought into a building at the entrance, thus creating a safer indoor environment.
Our safety matting range is designed to protect individuals working in a range of different workplace environments from accidents.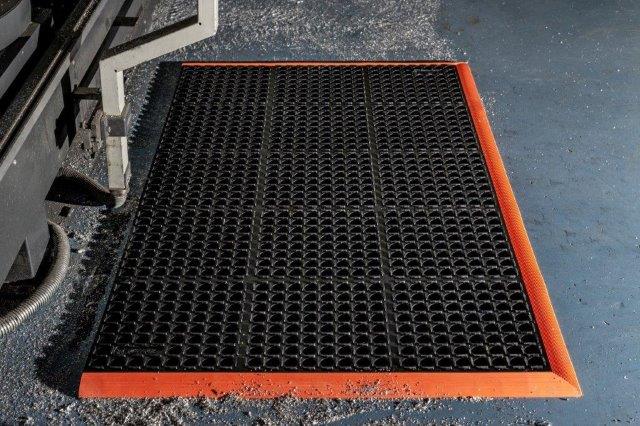 What is a Safety Mat?
Safety mats serve multiple purposes whether that is providing a surface to dry shoes on and prevent slips, or mats that have yellow borders to prevent trips in the workplace. Kitchen mats, wet area mats, anti-fatigue and non slip floor mats can all be considered safety mats as through their individual qualities they offer protection to workers or visitors in your building.
Rubber Safety Mats
Our rubber safety mats provide excellent protection, and come with shock absorbent properties; to reduce and evenly disperse the force of impact should a person fall. Rubber is a heavy matting material, with the weight holding the mat in place, preventing movement and trip hazards.
Our rubber safety mats also carry anti-slip and anti-vibration qualities, making them suitable for a wide range of applications and a variety of locations. Durable, chemical resistant and easy to maintain, rubber safety matting provides valuable anti-fatigue benefits for staff in industrial environments.
Many of our rubber safety mats also have bevelled edges for additional safety and prevention of slips and falls, plus they will allow access to wheelchair users when required.
How Do Safety Mats Work?
Safety matting will increase protection in almost any area, for employees and visitors, by providing safe footing and comfort. We have a range of safety mats that are designed to protect employees while they are working, and they all have different qualities suited to the job they are required for.
Our safety mats are manufactured with anti slip textured surfaces to deliver added traction to prevent slips and falls. Another important feature of this type of safety matting is the anti fatigue qualities, which reduces the dangers to health caused by standing in the same position in the workplace. Preventing long term health problems and protecting workers from the cold are just two additional examples of the effectiveness of safety matting.
Protecting Entrances with Outdoor Rubber Matting
We stock a huge range of entrance mats, but some of our most effective safety mats are found in our outdoor rubber mat section. Available as scraper, honeycomb or bristle options, they help prevent moisture being walked into a building, which is likely to cause slip hazards. Weather-resistant and hard wearing, they are suitable to use outdoors as the first point of protection, especially in the wet winter months.
Safety Mats for Kitchens and Hospitality
Bars, wet areas and kitchens require suitable matting to stand up to the rigours of a busy commercial kitchen or restaurant. Look after your employees with our rubber safety mats tailored for use in the kitchen or behind the bar. Easy to keep clean, they are hygienic and resilient to spillages and heavy footfall.
Benefits of Safety Matting
Keeping staff happy and healthy at work is the responsibility of the employer. With the introduction of the correct safety matting, risk can be offset and productivity boosted. Our safety mats are easy to keep clean and will enhance the working conditions for staff. Listed below are just some of the benefits of using safety mats.
Durability and better resilience than sponge mats
Reduce discomfort for workers
Anti-slip properties
Resistant to most spills
Comfort for legs, back and feet
Protect employees from the cold
Improve safety and well being in the workplace
How to Order Anti Fatigue Floor Mats from Mats Nationwide
The process for ordering an anti fatigue mat is straightforward. Simply ad standard sized mats to the basket, or complete our online enquiry form outlining the custom size you wish to order along with any additional information or give our sales a team a call.
If you require anti fatigue matting urgently, please contact one of our team on 01565 756152 or email sales@matsnationwide.co.uk and we shall endeavour to work with you to meet your businesses target date. We are happy to offer FREE UK delivery and have international delivery available for those looking to purchase anti fatigue mats from overseas.
What our customers say
Kawasaki Motors UK always seeks suppliers and business partners that offer quality competitive pricing, efficiency and excellent customer service. Mats Nationwide promised all of this and we've never been let down
Kawasaki Motors UK
Extremely happy with the service. Wonderful mat, exactly what we were looking for, excellent service, quick delivery!
Fairfax & Favor
Extremely quick turnaround and helpful approach, nothing was ever a problem. Thank you so much.
British Airways
Our personalised mats represent our brand and salon. They are easy to clean and can also be moved anywhere we need.
Toni & Guy
Amazing customer service, pleasure to deal with and nothing we asked was ever too much. Highly recommend!
The Gym Group
Very satisfied with the end product, the service has been excellent and the mat is easy to clean and maintain.
University Of Cumbria
Very satisfied with the end product and the service above all was excellent.
Holiday Inn
The logo mat is great thank you and the service we received from you was excellent.
Lord Alan Sugar - Amsprop Estates Ltd
I have nothing but positive feedback on the service and quality of the branded mats. Always a pleasure working with Mats Nationwide, and we will continue to do so in the future.
Swatch Group
Previous
Next