Rubber Mats
Our selection of rubber floor matting range includes Rubber Floor Mats, designed for use at entrances or within commercial kitchens, right through to Rubber Anti-Fatigue Mats constructed to reduce tiredness and increase comfort and productivity within the workplace.
Read More
We also produce a variety of rubber backed and bordered mats, each constructed with a different carpet pile depending on the product usage and unique feature. A rubber mat purchased from Mats Nationwide can be customised to your made to measure size – useful if you require a large rubber mat or unusual size to fit a specific doorway. Alternatively, you can order in any of our bestselling standard and runner sizes. The non-slip, heavy-duty border and backing applied ensures maximum stability and minimal movement.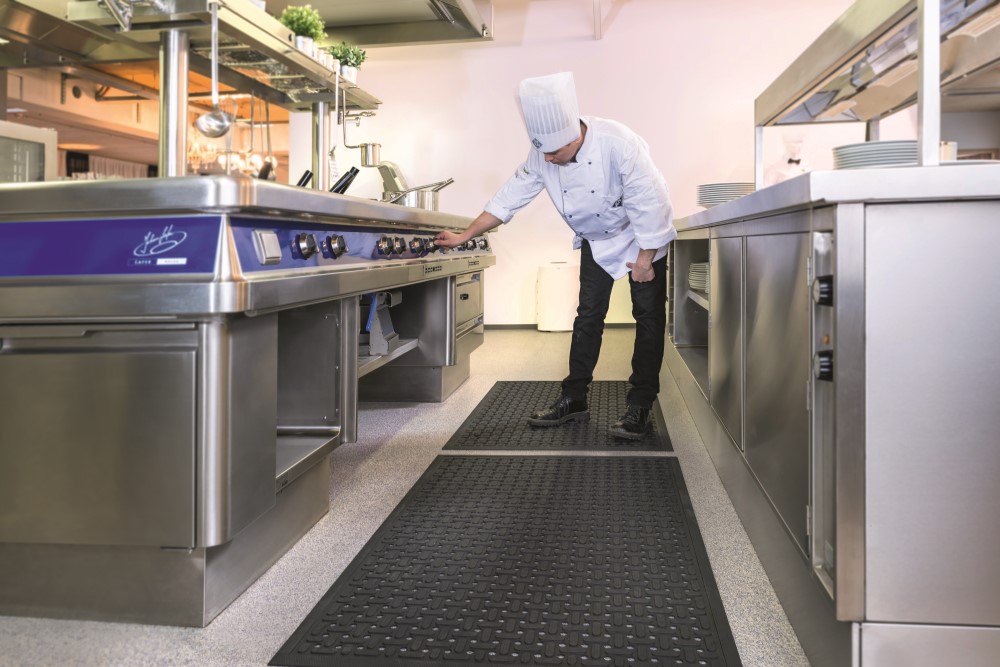 Outdoor Rubber Mats
Outdoor rubber floor mats are suitable for outdoor use but they can of course be used indoors too.  Outdoor entrance mats are most often used for scraping shoes clean prior to entering a building such as an office or school. Outdoor rubber mats are easy to maintain and keep clean as to remove any excess dirt or debris, you can use a hose.
We stock a wide range of outdoor rubber mats to enhance look of the front of your office, school, reception area or building.
For the ultimate property protection, pair outdoor rubber mats with indoor matting. The outdoor rubber floor matting will act to remove the majority of excess dirt, whilst the indoor doormat will absorb excess moisture, as well as removing finer particles of dust and dirt.
This complete floor protection solution ensures every business has safe, clean floors and reduces the risk of slips.
Rubber Entrance Mats
Outdoor rubber entrance mats are the first line of defence against tough dirt, grit and moisture. They're designed to scrape shoes clean before entering your business. However, we recommend a dual-action approach when ordering your doormats to ensure maximum floor protection. Rubber backed door mats are ideal for entrances.
Rubber Floor Mats
100% Nitrile EXS™ rubber is used on our rubber doormat range. A premium rubber that provides maximum oil resistance, weight reduction and flexibility. This rubber floor matting will not crack, chip or bend and is extremely durable, even in the toughest conditions.
Inorganic antimicrobial characteristics are also built-in to each of the rubber door mat products used within kitchen, bars and wet areas. This is to inhibit the growth of bacteria, such as E-coli and Staphylococcus Aureus.
Rubber Matting for Commercial Kitchens & Bars
Our kitchen products feature both anti-fatigue and anti-microbial properties, essential in an environment where cleanliness is paramount. Kitchen staff will often require an anti-fatigue rubber floor mat to be placed in front of dishwashers, cookers and preparation areas, or any area where kitchen staff are stood for long periods of time.
Anti-Fatigue Rubber Mat Solutions 
Anti-fatigue mats are designed for areas where staff are standing for prolonged periods of time. Up to 80% of workers who stand at work suffer from backache, headaches, poor circulation or poor knee and foot problems.
With Rubber Anti Fatigue mats in place, tiredness is reduced and comfort increases by 50% to that of a hard floor. This unique rubber mat encourages posture change and ensures feet aren't affected by changes in temperature or vibration in the floor. Overall we have statistics to show that this reduces staff absenteeism by up to 30%.
What our customers say
Kawasaki Motors UK always seeks suppliers and business partners that offer quality competitive pricing, efficiency and excellent customer service. Mats Nationwide promised all of this and we've never been let down
Kawasaki Motors UK
Extremely happy with the service. Wonderful mat, exactly what we were looking for, excellent service, quick delivery!
Fairfax & Favor
Extremely quick turnaround and helpful approach, nothing was ever a problem. Thank you so much.
British Airways
Our personalised mats represent our brand and salon. They are easy to clean and can also be moved anywhere we need.
Toni & Guy
Amazing customer service, pleasure to deal with and nothing we asked was ever too much. Highly recommend!
The Gym Group
Very satisfied with the end product, the service has been excellent and the mat is easy to clean and maintain.
University Of Cumbria
Very satisfied with the end product and the service above all was excellent.
Holiday Inn
The logo mat is great thank you and the service we received from you was excellent.
Lord Alan Sugar - Amsprop Estates Ltd
I have nothing but positive feedback on the service and quality of the branded mats. Always a pleasure working with Mats Nationwide, and we will continue to do so in the future.
Swatch Group
Previous
Next