Kitchen Mats
Industrial kitchens are extremely busy environments often with large volumes of footfall throughout peak times of the day so with this in mind, our anti-fatigue kitchen floor mats range has been designed to stand up to the test. Our safety kitchen mats are non-slip and can be washed easily in the interests of hygiene.
Read More
We stock anti-fatigue kitchen mats to provide comfort to those who spend a prolonged amount of time at work in the kitchen. View our rubber anti-fatigue kitchen mats to discover which product would work best in your kitchen space.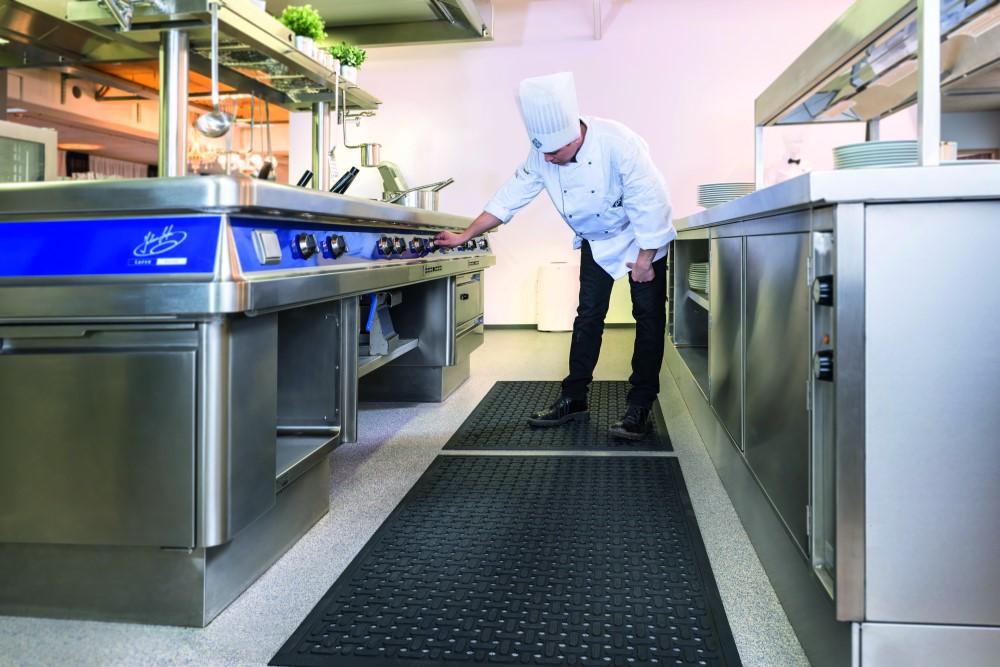 How do Anti-Fatigue Mats Work for Kitchen Staff?
Standing on hard surfaces for long hours whilst working in the kitchen can cause discomfort and fatigue. Anti-fatigue mats used in a kitchen, where staff are likely to be on their feet all day can ease this by providing a cushioned surface to stand on. Not only this, they prevent slips, trips and falls, and provide some insulation from cold floors.
Our anti-fatigue mats for kitchens are designed for that testing environment and so are resistant to oil, grease and chemicals and can be easily cleaned in the interests of hygiene.
Rubber Non Slip Kitchen Mats
Our rubber backed kitchen mats have a number of features and benefits that make them the perfect for choice for a commercial kitchen.
Features and benefits include:
Non-slip surface that is oil, water, and grease-resistant
Good for indoor and outdoor environments
Drainage holes allow liquids and dirt to pass through
Bevelled and cleated edges help prevent slips, trips and falls
Bacterial growth reduced by anti-microbial material
Offset backing provides additional softness and support
Easy-to-clean, durable, and lightweight all-rubber construction
Perfect thickness to ease stress on the feet, legs and backs
Are Kitchen Mats Suitable for Other Areas?
Kitchen floor mats are suitable to use in other areas where food preparation takes place. Kitchen mats provide superior traction in wet or dry conditions and have a greaseproof surface making them the best option for fry stations, cooking lines or greasy industrial stations. These features along with the drainage holes, which allow food or liquid to flow away from the surface of the mat, mean that kitchen mats can be used for food service, food process and packaging, bars, cafeterias and canteens.
Custom Size & Large Kitchen Mats
Hygiene matting is designed for the food industry to increase hygiene while reducing slips and falls and fatigue, essential in food handling and preparation. Mats Nationwide provide these specialist mats in a variety of custom made to measure sizes, thickness and materials so that our customers are able to purchase the perfect product.
Large kitchen spaces may require large kitchen mats, while smaller or odd shaped kitchens may require a smaller mat, but we are happy to offer custom sizes upon request to ensure the mat is suitable for the space. Our safety chef mats come with a 12-month guarantee against manufacturing defects and are made from 100% natural rubber with a anti slip rubber backing that is suitable for all floor types.
How to Order Office Floor Mats from Mats Nationwide
The process for ordering any of our office mats is straightforward. For a standard kitchen floor mat, simply complete our online enquiry form outlining the custom size you wish to order along with the colour and any additional information or give our sales a team a call.
If you require rubber kitchen floor mats urgently, please contact one of our team on 01565 756152 or email sales@matsnationwide.co.uk and we shall endeavour to work with you to meet your businesses target date. We are happy to offer FREE UK delivery and have international delivery available for those looking to purchase kitchen floor mats from overseas.
What our customers say
Kawasaki Motors UK always seeks suppliers and business partners that offer quality competitive pricing, efficiency and excellent customer service. Mats Nationwide promised all of this and we've never been let down
Kawasaki Motors UK
Extremely happy with the service. Wonderful mat, exactly what we were looking for, excellent service, quick delivery!
Fairfax & Favor
Extremely quick turnaround and helpful approach, nothing was ever a problem. Thank you so much.
British Airways
Our personalised mats represent our brand and salon. They are easy to clean and can also be moved anywhere we need.
Toni & Guy
Amazing customer service, pleasure to deal with and nothing we asked was ever too much. Highly recommend!
The Gym Group
Very satisfied with the end product, the service has been excellent and the mat is easy to clean and maintain.
University Of Cumbria
Very satisfied with the end product and the service above all was excellent.
Holiday Inn
The logo mat is great thank you and the service we received from you was excellent.
Lord Alan Sugar - Amsprop Estates Ltd
I have nothing but positive feedback on the service and quality of the branded mats. Always a pleasure working with Mats Nationwide, and we will continue to do so in the future.
Swatch Group
Previous
Next