Outdoor Logo Mats
Outdoor logo mats from Mats Nationwide provide an excellent opportunity to put your external floor space to better marketing use. Grasp attention outside and draw customers into your commercial premises by choosing from one of the two UK's best-selling weatherproof outdoor mats. Not only do outdoor logo mats create instant brand awareness but also scrape shoes clean prior to people entering, ensuring front doors and floors remain clean at all times.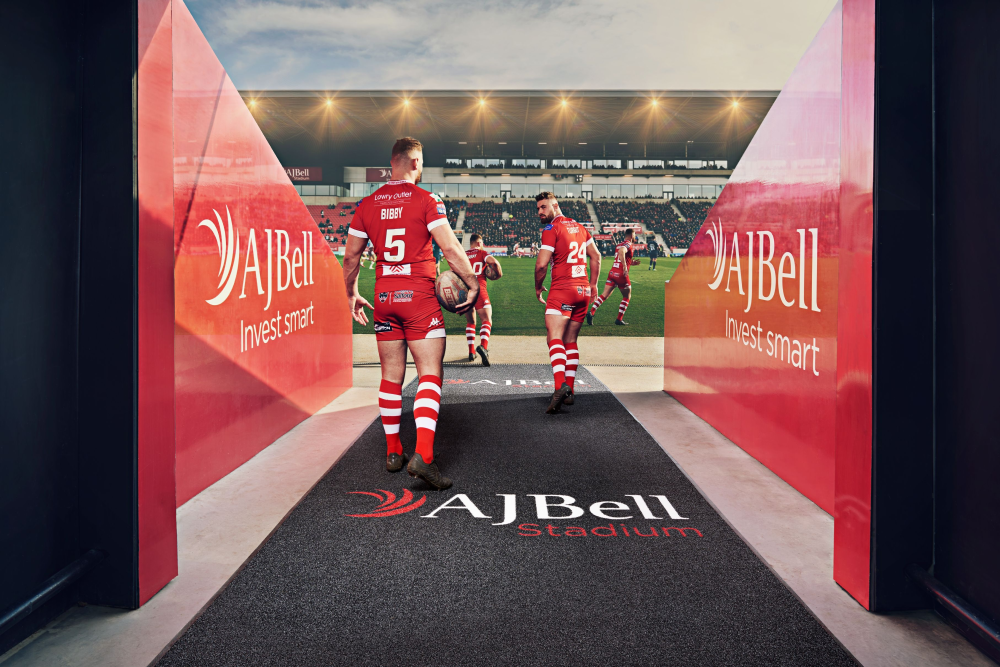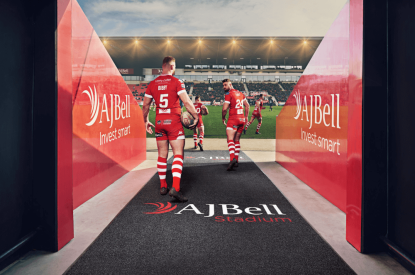 Outdoor Grass Effect Logo Mat

Wide Colour Range Available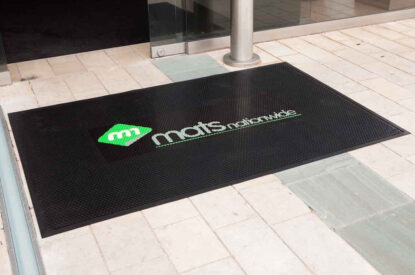 Outdoor Rubber Logo Mats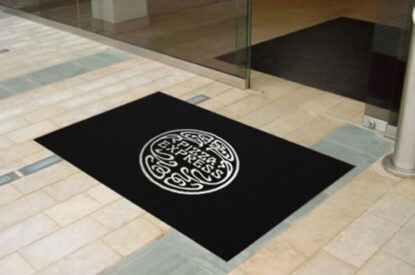 Outdoor Brush Logo Mats

Wide Colour Range Available
Scraper Outdoor Mats with a Logo
Scraper outdoor logo mats are cost-effective rubber mats manufactured using 50% recycled rubber designed to trap moisture and debris below the walking surface. The all rubber construction creates maximum durability and with its non-slip textured backing and heavy-duty construction, you can rest assured it is going nowhere. What is even better is that our outdoor logo mat range is virtually maintenance-free and these rubber mats are available in a range of standard sizes and floor runners, perfect for use at the entrance of your premises.
There is no restriction on the number of colours used for outdoor mats and of course, our FREE visual is supplied prior to order, detailing the colours used and the scale of the logo in proportion to the mat. This FREE design process means customers can shop our outdoor logo mat range with confidence.
The unique bevelled border of the logo outdoor mat not only gives additional safety to help prevent slips, trips and falls but also allows easy wheeled access for wheelchairs, prams or trolleys.
Outdoor Front Door Brush Mats Available with Logos
A similar product to our traditional coir mats, our outdoor brush mats are a great option to use outside your premises. Outdoor brush mats are manufactured from a durable polypropylene fibre with a looped pile surface, designed for heavy dirt and dust removal. The unique pile adds a touch of comfort and elegance to outdoor entrances with its misleading carpet-like appearance, however, rest assured this outdoor logo mat means business and is one of the most heavy-duty products we supply.
Designed for heavy foot traffic, the outdoor brush mat can be used both indoors and out and is available to order in the custom size of your choice; ideal for large areas that require bespoke coverage. Our outdoor brush mats can be ordered with your logo and you can choose from a range of single classic bestselling colours to suit your branding. The outdoor front door brush mat can be laid on top of your floors as a lift and lay mat or deployed as an inlay into mat wells.
Outdoor Mats Provide the Ultimate Floor Protection
We recommend a dual mat system in order to best protect your flooring. Outdoor mats can be paired with an indoor mat to ensure that your floors are kept in optimum condition. First impressions are vital, so ensuring floors are looking pristine, safe and welcoming are vital order today and choose from our wide range of outdoor entrance matting today. Better still, add a logo to your outdoor mat to showcase your brand or offer a welcome message to visitors.
Mats Nationwide also now stock social distancing mats, which are far more effective and long-lasting than floor stickers. Relocate your outdoor logo mats to wherever they are required to manage customer queues outside of your property and inform them of the social distance measures in place.
Weather Proof Outdoor Mats
Mats Nationwide supply outdoor doormats with and without logos that help to prevent dirt, mud, and grit from the shoes of staff, customers and visitors before they cross the threshold indoors into the property. Suitable to deal with heavy traffic, our outdoor mats are resolute in harsh weather making them suitable for schools, hospitals, bars and restaurants where masses of visitors are likely to be heading in and out of.
Made with heavy duty rubber, our outdoor mat range will not crack or curl in extreme weather (hot or cold) and the logo will remain clear and visible for years. We have supplied commercial outdoor mats to:
Schools & Colleges
Offices
Hospitals
Shops
Bars & Restaurants
Hotels 
How to Order an Outdoor Logo Mat From Mats Nationwide
The process for ordering a customised outdoor logo mat is straightforward.
Email the details of your logo through to our design team and confirm the quantity, product and size required. We will create a complementary visual that will be emailed to you for approval to show the finished customised weatherproof mat. The visual design of the outdoor logo mat can be amended free of charge until you are completely satisfied with the end result.
We have a huge colour palette to choose from and can also Pantone colour match if strict brand guidelines need to be adhered to.
If you require your outdoor front door matting order by a particular deadline, please contact one of our team on 01565 756152 or email sales@matsnationwide.co.uk and we shall endeavour to work with you to meet your businesses target date.
What our customers say
Kawasaki Motors UK always seeks suppliers and business partners that offer quality competitive pricing, efficiency and excellent customer service. Mats Nationwide promised all of this and we've never been let down
Kawasaki Motors UK
Extremely happy with the service. Wonderful mat, exactly what we were looking for, excellent service, quick delivery!
Fairfax & Favor
Extremely quick turnaround and helpful approach, nothing was ever a problem. Thank you so much.
British Airways
Our personalised mats represent our brand and salon. They are easy to clean and can also be moved anywhere we need.
Toni & Guy
Amazing customer service, pleasure to deal with and nothing we asked was ever too much. Highly recommend!
The Gym Group
Very satisfied with the end product, the service has been excellent and the mat is easy to clean and maintain.
University Of Cumbria
Very satisfied with the end product and the service above all was excellent.
Holiday Inn
The logo mat is great thank you and the service we received from you was excellent.
Lord Alan Sugar - Amsprop Estates Ltd
I have nothing but positive feedback on the service and quality of the branded mats. Always a pleasure working with Mats Nationwide, and we will continue to do so in the future.
Swatch Group
Previous
Next