Anti-Fatigue Mats
Anti-fatigue mats act as a cushion for the busy workplace to help reduce the fatigue caused by standing in the workplace for prolonged periods, especially on hard surfaces. Mats Nationwide have supplied hard wearing anti-fatigue floor matting across a broad spectrum of industries including catering, health care and manufacturing, in order to improve working conditions and productivity.
Read More
Our popular rubber anti-fatigue mats come in a number of colours and styles, are easy to clean and are non-slip perfectly safe to deploy in working environments.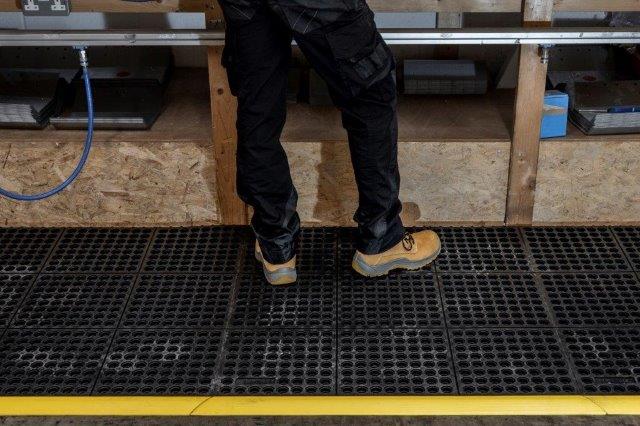 Anti fatigue mats are found in manufacturing, packing and assembly lines where workers often stand in the same spot, however other clients benefit from anti-fatigue mats including commercial locations such as retailers, hotels, customer service areas, hotel receptions, warehouses, garages and kitchens.
Do Anti-Fatigue Mats Really Work?
Anti-fatigue mats are constructed to provide comfort for people who stand at counters, on assembly lines or any type of workplace or station for long periods by providing cushioning underfoot. A recent survey conducted by COBA Europe revealed that 68% of respondents found anti-fatigue matting to have a positive effect on the wellbeing of staff.
Anti fatigue mats promote better blood circulation, as standing feet subtly adapt to the cushioned surface, stimulating blood circulation when foot and calf muscles expand and contract. Our anti fatigue mats also provide rest bite from cold solid floors and are built with slip resistant qualities.
If you want to promote a better workplace and provide employees with a safer place to work, use anti fatigue mats to reduce issues with muscular pain, circulation problems and reduce accidents.
What Are the Best Anti-Fatigue Mats?
As the UK's leading supplier of floor mats, Mats Nationwide only stock the best anti fatigue mats including safe step mats, duckboard swarf mats, oil and grease mats and multi purpose anti fatigue mats. The best anti fatigue mat is going to be the one that bests suits the nature of the job, such as bar and wet area mats which are customised for the hospitality sector.
All of our Anti-fatigue mats have the following features –
Cushioning
Bevelled edges
Puncture resistant
Anti slip backing
Surface texture
Chemical resistance
Makes your workplace safer, encourage employees to be more productive and reap the safety benefits of our premium anti fatigue mats.
Cleaning Anti-Fatigue Mats
Rubber anti-fatigue mats will remain clean with a daily sweep, or use warm power and a neutral detergent and wash them periodically. Avoid using any abrasive type cleaner and remove any cleaning residue before reuse. A pressure washer will also do a great job.
Benefits of Anti Fatigue Matting
For many lines of work, staff have to be on their feet for long amounts of time. Keeping them fit and healthy at work is the responsibility of the employer, yet many employees work in painful or uncomfortable positions. This can lead to MSD's (Musculoskeletal Disorders), which is the most common work-related health condition in the EU, and lead to absence from work. Anti-fatigue mats are one easy to implement measure to benefit both employers and employees and proven to greatly reduce the risk of MSD's.
Durability and better resilience than sponge mats
Reduce discomfort for works
Anti-slip properties
Resistant to most spills
Comfort for legs, back and feet
Protect employees from the cold
Improve safety and well being in the workplace
How to Order Anti-Fatigue Mats from Mats Nationwide
The process for ordering an anti-fatigue mat is straightforward. Simply ad standard sized mats to the basket, or complete our online enquiry form outlining the custom size you wish to order along with any additional information or give our sales a team a call.
If you require anti-fatigue matting urgently, please contact one of our team on 01565 756152 or email sales@matsnationwide.co.uk and we shall endeavour to work with you to meet your businesses target date. We are happy to offer FREE UK delivery and have international delivery available for those looking to purchase anti-fatigue floor mats from overseas.
What our customers say
Kawasaki Motors UK always seeks suppliers and business partners that offer quality competitive pricing, efficiency and excellent customer service. Mats Nationwide promised all of this and we've never been let down
Kawasaki Motors UK
Extremely happy with the service. Wonderful mat, exactly what we were looking for, excellent service, quick delivery!
Fairfax & Favor
Extremely quick turnaround and helpful approach, nothing was ever a problem. Thank you so much.
British Airways
Our personalised mats represent our brand and salon. They are easy to clean and can also be moved anywhere we need.
Toni & Guy
Amazing customer service, pleasure to deal with and nothing we asked was ever too much. Highly recommend!
The Gym Group
Very satisfied with the end product, the service has been excellent and the mat is easy to clean and maintain.
University Of Cumbria
Very satisfied with the end product and the service above all was excellent.
Holiday Inn
The logo mat is great thank you and the service we received from you was excellent.
Lord Alan Sugar - Amsprop Estates Ltd
I have nothing but positive feedback on the service and quality of the branded mats. Always a pleasure working with Mats Nationwide, and we will continue to do so in the future.
Swatch Group
Previous
Next