Hospital Mats
Mats Nationwide are proud to help hospitals and healthcare facilities throughout the UK and overseas with the supply of premium hospital matting. From hospital entrances to waiting rooms, wards, canteens and even surgical areas, we have high quality mats available.
Read More
For those standing on their feet for long periods, our rubber anti-fatigue mats ease the burden on the legs and feet, while our dirt barrier and dust control mat help keep hospitals clean and tidy. With custom sizes and log mats available too, hospitals are able to greet visitors, pass on information or reinforce branding.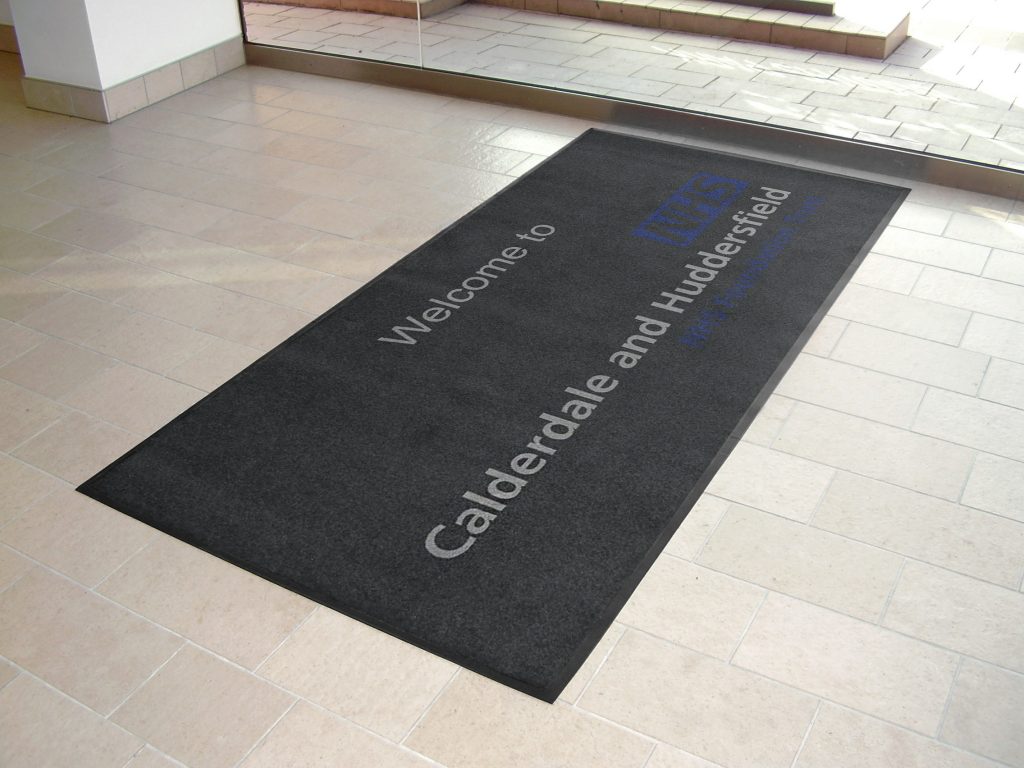 Healthcare & Hospital Entrance Mats
In areas where hygiene and cleanliness are crucial, hospital entrance mats act as an important barrier collecting dirt and bacteria from the outside and stopping it from spreading. Keep hospital reception areas and waiting rooms clean through deploying entrance floor mats that can be deep cleaned to remain effective and hygienic.
Pharmacies, care homes and doctors surgeries can benefit from using absorbent matting and with the global pandemic set to change how healthcare facilities are managed, the use of entrance mats is more important than ever. Why not maximise your healthcare mats and encourage social distancing with custom logo mats, or even encourage visitors to keep washing their hands.
Importance of Hospital Mats
Hospitals can ill afford to go wrong with cleanliness so perhaps the most important role of hospital matting is hygiene. Likewise, care homes, GP surgeries, clinics, dentists and treatment centres all rely on outdoor mats to help manage dirt and dust from the outside.
Hospital environments where sick patients are treated are likely to contain bacteria or viruses, but hospital floor matting helps improve health standards by reducing contamination and potential infections. Medical anti-microbial mats help to maintain safer healthcare environments, and regular cleaning of hospital floor mats will help improve hygiene and reduce risk.
The elderly and vulnerable head to hospitals for treatment so it is essential that hospital mats are used to reduce the risk of wet slippery floors and walkways. Hospital entrance mats indoors and out provide a surface to walk over and dry off shoes, as well as wheelchairs, pushchairs and trollies.
Rubber anti fatigue mats are another important type of mat used in hospital environments, helping those standing for long periods enjoy more comfort, protect them from the cold and look after their feet, legs and back.
How to Order Hospital Floor Mats from Mats Nationwide
The process for ordering any of our hospital mats is straightforward. For a standard hospital floor mat, simply complete our online enquiry form outlining the custom size you wish to order along with the colour and any additional information or give our sales a team a call.
If you require any of our floor mats urgently, please contact one of our team on 01565 756152 or email sales@matsnationwide.co.uk and we shall endeavour to work with you to meet your businesses target date. We are happy to offer FREE UK delivery and have international delivery available for those looking to purchase hospital mats from overseas.
What our customers say
Kawasaki Motors UK always seeks suppliers and business partners that offer quality competitive pricing, efficiency and excellent customer service. Mats Nationwide promised all of this and we've never been let down
Kawasaki Motors UK
Extremely happy with the service. Wonderful mat, exactly what we were looking for, excellent service, quick delivery!
Fairfax & Favor
Extremely quick turnaround and helpful approach, nothing was ever a problem. Thank you so much.
British Airways
Our personalised mats represent our brand and salon. They are easy to clean and can also be moved anywhere we need.
Toni & Guy
Amazing customer service, pleasure to deal with and nothing we asked was ever too much. Highly recommend!
The Gym Group
Very satisfied with the end product, the service has been excellent and the mat is easy to clean and maintain.
University Of Cumbria
Very satisfied with the end product and the service above all was excellent.
Holiday Inn
The logo mat is great thank you and the service we received from you was excellent.
Lord Alan Sugar - Amsprop Estates Ltd
I have nothing but positive feedback on the service and quality of the branded mats. Always a pleasure working with Mats Nationwide, and we will continue to do so in the future.
Swatch Group
Previous
Next