Coir Entrance Matting
Coir entrance mats provide a warm welcome in foyers, at office entrances, or even at schools or shops. Not only this, but coir entrance matting is also hard wearing and absorbent making it an excellent material to use at entry points. If you are looking for a coir entrance mat for your business or organisation, speak to our dedicated team about a coir logo mat that will feature your logo or branding.
Read More
Our range of coir front door mats come in a variety of styles and colours ranging from natural coir to darker blacks and browns. With eight colours in total to choose from, customise your coir entrance matting to fit in with the interior of your reception or foyer areas. We provide made to measure coir entrance mats too, so place an order for a coir mat in any size you require.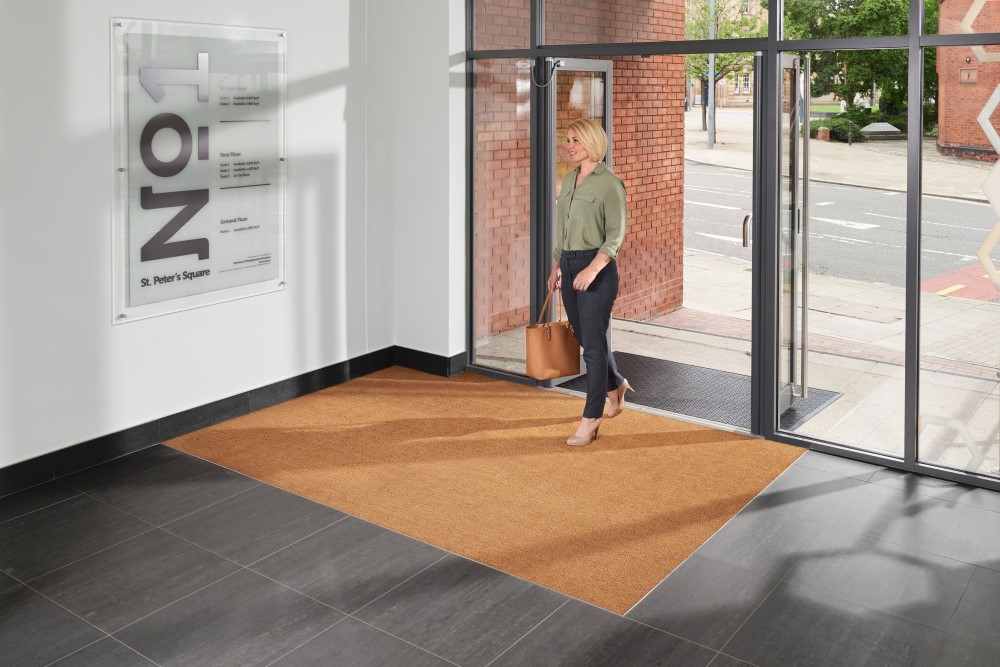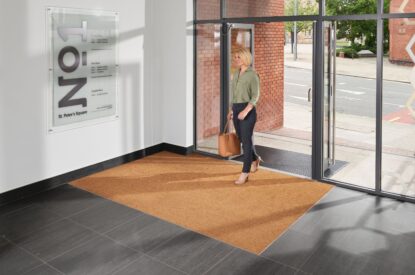 Coir Mats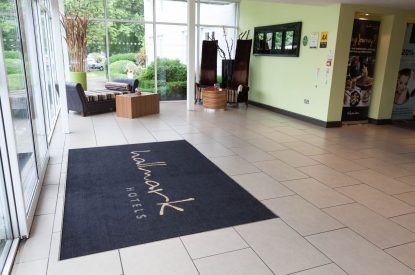 Coir Logo Mats

Wide Colour Range Available
Made to Measure Coir Mats for Entrances
The beauty of coir is that it is customisable when it comes to size. Our made to measure coir mats are bespoke to the requirements of the customer, cut to the exact size of the space the mat is to be used in. For well or recess fitting, we advise customers to add an extra 5cm to both the length and width for accurate trimming on site.
Manufactured using 100% natural coir fibres, are available in 14mm, 17mm and 28mm again giving the customer flexibility to choose a mat that suits the property. Strong hard wearing PVC making will ensure that any coir entrance mat purchased from Mats Nationwide will last for years to come, so much so we offer a 2 year guarantee against manufacturing defects.
Coir Indoor Entrance Mats
Coir entrance mats are best deployed in indoor areas and not really suitable for sitting outside in wet weather conditions. The natural coir fibre matting is easy to clean and maintain, as a simple brush or vacuum will suffice when it comes to cleaning. Coir entrance mats are available in a range of colours to suit the décor of the property, with natural, red, russet, blue, black, brown, grey and green options available. It is also possible to add a logo or branding to the coir entrance mat, with a free preview of the design provided before you hit the order button, making sure you are 100% satisfied with the product.
Benefits of Coir Entrance Mats
Coir entrance matting is suitable to use in a variety of environments including indoor entrances and exits, in internal reception areas, in a hotel, retail or office environment and public buildings. But the benefits don't stop there!
Suitable to use as loose lay or recessed into floor space
Made to measure options available
Customise with logos or branding
Hugely effective dirt trapper
Excellent brushing capability
Strong, hard, wearing and absorbent
2-year guarantee
How to Order Coir Entrance Matting from Mats Nationwide
The process for ordering a coir entrance mat is straightforward. If you are thinking of adding a logo, brand or message to the coir entrance mat, email the details through to our design team and confirm the quantity, product and size required. We will provide a complimentary visual for your approval to show the finished coir entrance mat.
We have a huge colour palette to choose from for coir matting and can Pantone colour match if strict brand guidelines need to be adhered to. For a standard coir entrance mat, simply complete our online enquiry form outlining the custom size you wish to order along with the colour and any additional information or give our sales a team a call.
If you require a coir entrance mat for a particular deadline, please contact one of our team on 01565 756152 or email sales@matsnationwide.co.uk and we shall endeavour to work with you to meet your businesses target date. We are happy to offer FREE UK delivery and have international delivery available for those looking to purchase coir entrance mats from overseas.
What our customers say
Kawasaki Motors UK always seeks suppliers and business partners that offer quality competitive pricing, efficiency and excellent customer service. Mats Nationwide promised all of this and we've never been let down
Kawasaki Motors UK
Extremely happy with the service. Wonderful mat, exactly what we were looking for, excellent service, quick delivery!
Fairfax & Favor
Extremely quick turnaround and helpful approach, nothing was ever a problem. Thank you so much.
British Airways
Our personalised mats represent our brand and salon. They are easy to clean and can also be moved anywhere we need.
Toni & Guy
Amazing customer service, pleasure to deal with and nothing we asked was ever too much. Highly recommend!
The Gym Group
Very satisfied with the end product, the service has been excellent and the mat is easy to clean and maintain.
University Of Cumbria
Very satisfied with the end product and the service above all was excellent.
Holiday Inn
The logo mat is great thank you and the service we received from you was excellent.
Lord Alan Sugar - Amsprop Estates Ltd
I have nothing but positive feedback on the service and quality of the branded mats. Always a pleasure working with Mats Nationwide, and we will continue to do so in the future.
Swatch Group
Previous
Next