Custom Coir Mats
Mats Nationwide's coir mat range (often referred to as coconut or coco matting) is manufactured using 100% natural coir fibres, and is available in bestselling natural, plus an additional seven classic colours. We also manufacture coir mats with your business logo, message or emblem on, in the customised size of your choice.
Read More
Coir matting is popular as a 'loose lay' mat or fitted into a recessed well. Its effective brushing action is designed to scrape tough dirt, dust and grit from the bottom of shoes to ensure your floors remain safe and clean. Suitable for all types of commercial and industrial business entrances, including shops, schools, bars, restaurants, hotels, workshops, offices and public buildings, which are subject to heavy foot traffic.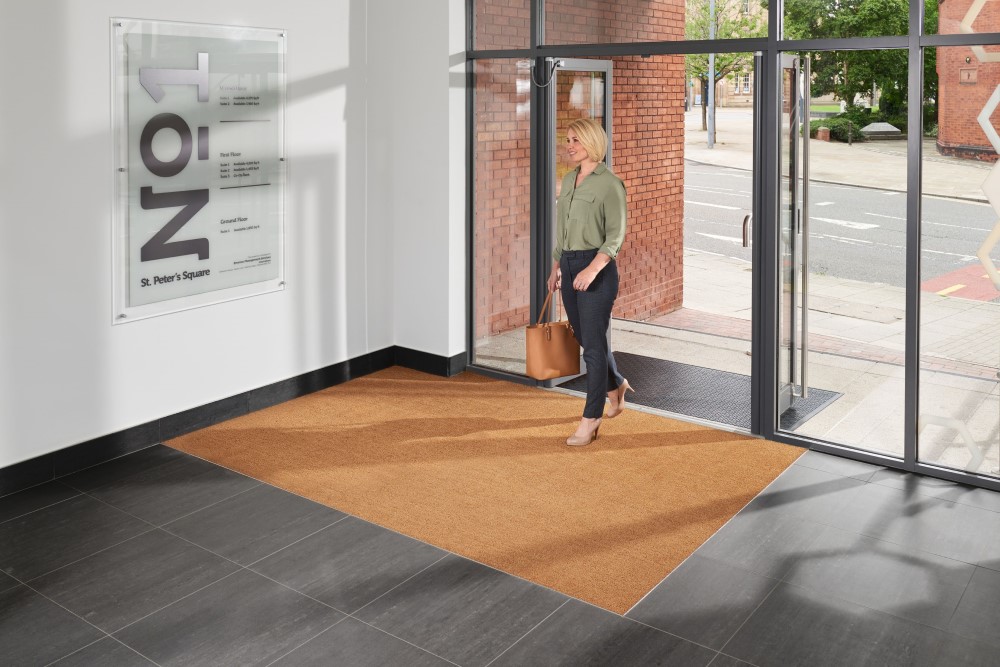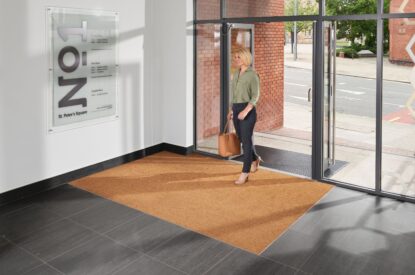 Coir Mats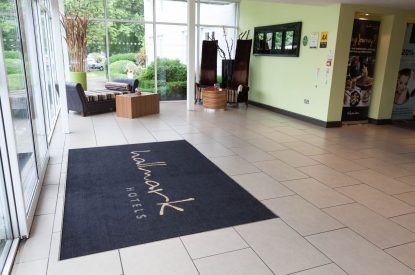 Coir Logo Mats

Wide Colour Range Available
Need A Made to Measure Coir Door Mat?
Coir door matting can be made to measure and cut to any size between 1200 cm x 200 cm, ideal for small or large areas where customers often struggle to find mats of this size. Alternatively, we can supply the coir matting by the metre/roll.
If the coir is being placed into a recessed mat well, we usually recommend adding an extra 5 cm to both width and length and cutting the mat to size on site. Often mat wells vary in length and width at different points, this way the extra 5 cm covers you for any size discrepancy, to ensure the coir sits beautifully in your recess and the matting is flush with the floor.
Natural coloured coir is available in depths of 14 mm, 17 mm and 28mm, colour and logo in 17mm depth. We advise our customers that if your coir mat well is slightly deeper than the coir matting ordered, simply build your recess up with a couple of sheets of plywood and place the coir matting on top. This ensures an even finish with the floor and no trip hazard.
Coir Door Matting Colour Options
Our coir mats are available in traditional 'natural' colour or choose from one of our vibrant bestselling coir rug colours; bleach, red, russet, blue, black, brown, green and grey.
We also manufacture coir logo mats, whereby your logo is actually cut and inserted into the coir mat and not printed. This is to ensure that your logo lasts the life of the mat and does not fade or rub, which is often the case with printed coir mats sold online. Free artwork visuals are created prior to ordering for logo matting and can be amended at no extra cost until you are completely happy with the final proof and ready to order.
Heavy Duty Coir Matting 
Each commercial coir doormat is backed with a strong, hard-wearing PVC backing to ensure maximum stability when placed on your floor or into a recessed mat well. As our coir matting is bonded to a hard-wearing backing, you can expect your product to last. Natural coir is popular as it is so durable so no matter where you choose to deploy your coir mat, it will stand up to the test.
Cutting Coir Mats to Size
Our coir mats are designed to be cut to size or any shape and will not fray during or after this process. The coir fibres are heavily bonded to the durable backing to ensure maximum longevity and endurance. Cut your coir matting to the perfect size for your entrance, and if you want to make a great first impression, choose to add your brand on to your coir mat.
Fast Delivery 
Natural and coloured coir doormats are all dispatched on a next day delivery (free UK delivery). Coir matting that has been ordered with a logo on, is dispatched 6 days from approval of your artwork visual, again free UK delivery is available on our coir matting products.
What our customers say
Kawasaki Motors UK always seeks suppliers and business partners that offer quality competitive pricing, efficiency and excellent customer service. Mats Nationwide promised all of this and we've never been let down
Kawasaki Motors UK
Extremely happy with the service. Wonderful mat, exactly what we were looking for, excellent service, quick delivery!
Fairfax & Favor
Extremely quick turnaround and helpful approach, nothing was ever a problem. Thank you so much.
British Airways
Our personalised mats represent our brand and salon. They are easy to clean and can also be moved anywhere we need.
Toni & Guy
Amazing customer service, pleasure to deal with and nothing we asked was ever too much. Highly recommend!
The Gym Group
Very satisfied with the end product, the service has been excellent and the mat is easy to clean and maintain.
University Of Cumbria
Very satisfied with the end product and the service above all was excellent.
Holiday Inn
The logo mat is great thank you and the service we received from you was excellent.
Lord Alan Sugar - Amsprop Estates Ltd
I have nothing but positive feedback on the service and quality of the branded mats. Always a pleasure working with Mats Nationwide, and we will continue to do so in the future.
Swatch Group
Previous
Next