Restaurant Mats
It is essential that heavy-duty, commercial matting is in place within restaurants to ensure a safe environment for customers and employees. Protect floors against moisture, dirt and grit walked in from outdoors, but also from food and liquid that is often spilt throughout the working day, posing a potential slip hazard.
Read More
We remain one of the UK's leading specialists in non slip floor mats for restaurants, bars and kitchens, providing expert advice on the most effective matting for your business requirements.  We have years of experience in the industry and offer an unrivalled service with competitive pricing.  We supply to all sizes of restaurants, ranging from small to medium independents right through to larger blue-chip chains.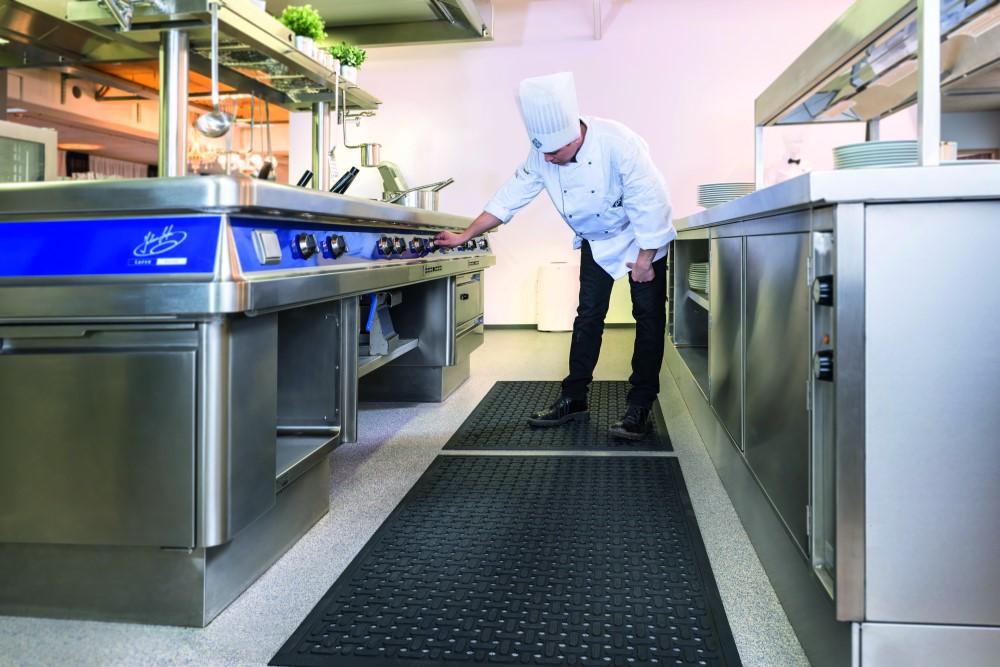 Customised Restaurant Matting
You can choose from a range of styles, colours, custom sizes and runners each available as a loose lay product or to be installed as a recessed well.  Any floor mat used within a restaurant environment should always have an anti slip, bevelled rubber border and backing.
The bevelled border ensures easy-wheeled access for wheelchairs, trolleys and prams, whilst the premium nitrile rubber does not crack, bend or chip ensuring the restaurant mat remains firmly in one place.
"When customers choose a restaurant, cleanliness ranks at the top for fast-food destinations". (Restaurants & Institutions)
Restaurant Logo Floor Mats
Logo mats are a popular choice of matting for restaurants, especially at entrance doorways and exits. This range of creative matting immediately puts your floor space to marketing use, promoting a restaurant name and logo while also using colours that complement your brand. Each restaurant mat is made to measure, with a free artwork design for you to preview before signing off on the order.
Mats Nationwide also stock social distancing mats to help manage queues at food collection points.
Commercial Restaurant Kitchen Mats
Kitchen mats are paramount in restaurants providing a safe working place for staff to cook, clean and serve. Our range of unique kitchen matting allows food debris and liquid to fall through the mat to the floor below, improving hygiene levels and increasing safety.  Each product is fully washable, non-slip and chemical, grease and oil resistant.
Entrance Mats for Restaurants
Preventing dirt and water from coming into a restaurant is important in the interests of not only safety, but hygiene too. Our restaurant entrance mats absorb moisture from the footfall of customers making the restaurant a safer area for staff and guests. Scraper mats, water absorbent mats and dirt trappers are all great solutions for customers looking to invest in effective entrance mats for a restaurant.
Benefits of Restaurant Mats
Our restaurant entrance mats are a best seller. Our all round multi purpose mats are highly effective in dust control and a great dirt trapper! Super absorbent and fully washable, our restaurant mats come in a variety of colours to fit in with the décor as well.
Protect Floors from Oil and Grease
Restaurant floors are at risk from various spills, including food, drink, oil and grease as well as enduring large volumes of footfall. Using matting throughout your establishment will help to protect the floors beneath from damage.
Reduce Risk
Non-slip safety mats reduce the risk of slips or falls in a restaurant, especially in a restaurant environment where spillages are frequent. We stock a number of rubber non-slip safety mats ideal for food and drink environments. Perfect for preparation areas, our rubber mats feature drainage holes to allow any excess liquids to run off underneath, keeping the surface area safer to walk on.
Anti-Fatigue Qualities
Restaurant mats offer benefits for employees in that they can reduce the risk of injury to staff who stand for long periods such as in the restaurant kitchen or behind a desk.
How to Order Restaurant Mats from Mats Nationwide
The process for ordering a restaurant floor mat is straightforward. If you are thinking of adding a logo, brand or message to a restaurant mat, email the details through to our design team and confirm the quantity, product and size required. We will provide a complimentary visual for your approval to show the finished restaurant matting.
We have a huge colour palette to choose from and can Pantone colour match if strict brand guidelines need to be adhered to.
For a standard restaurant mat, complete our online enquiry form outlining the custom size you wish to order along with the colour and any additional information or give our sales a team a call.
If you require a restaurant mat and are in a hurry to get it delivered, please contact one of our team on 01565 756152 or email sales@matsnationwide.co.uk and we shall endeavour to work with you to meet your businesses target date. We are happy to offer FREE UK delivery and have international delivery available for those looking to purchase restaurant floor mats from overseas.
What our customers say
Kawasaki Motors UK always seeks suppliers and business partners that offer quality competitive pricing, efficiency and excellent customer service. Mats Nationwide promised all of this and we've never been let down
Kawasaki Motors UK
Extremely happy with the service. Wonderful mat, exactly what we were looking for, excellent service, quick delivery!
Fairfax & Favor
Extremely quick turnaround and helpful approach, nothing was ever a problem. Thank you so much.
British Airways
Our personalised mats represent our brand and salon. They are easy to clean and can also be moved anywhere we need.
Toni & Guy
Amazing customer service, pleasure to deal with and nothing we asked was ever too much. Highly recommend!
The Gym Group
Very satisfied with the end product, the service has been excellent and the mat is easy to clean and maintain.
University Of Cumbria
Very satisfied with the end product and the service above all was excellent.
Holiday Inn
The logo mat is great thank you and the service we received from you was excellent.
Lord Alan Sugar - Amsprop Estates Ltd
I have nothing but positive feedback on the service and quality of the branded mats. Always a pleasure working with Mats Nationwide, and we will continue to do so in the future.
Swatch Group
Previous
Next