Entrance Mats
Entrance mats are the most effective way to make a great first impression on visitors at any location. Offices, schools, retailers, hotels, bars and restaurants use heavy duty, high performance entrances mats to prevent the spread of dirt or moisture from the outside.
Read More
Entrance door matting plays the vital role of trapping dust and damp to protect flooring, keeps entrance areas clean and presentable and reduces the risks of slips. Mats Nationwide stock a huge and competitively priced entrance matting range, with a floor mat solution available for everyone.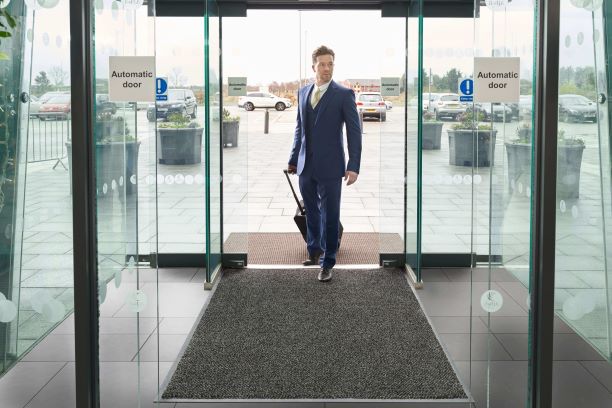 Customise Your Entrance Mat
Choose from our extensive range of entry door mat sizes, colours and materials, or create a custom mat that features a logo, welcome message or branding.
Premium commercial entrance mats encourage employees and visitors to wipe their shoes to prevent the spread of dirt and transform the look of your office.
If you need an indoor matting or outdoor matting solution, or even bespoke door matting for your entrance we can help.
Benefits of Entrance Mats
Cleanliness & Protection
Entrance mats provide excellent protection for your floors by controlling the amount of dirt, moisture and grit tracked into premises. Our entry door mats will look after your floors and reduce the need for frequent cleaning by collecting any dirt and damp from shoes, wheelchairs, pushchairs and any other traffic.
Statistics show that 1,500 people alone will remove 42% of the finish from your floor.
Door matting is a vital investment for any business, to increase the longevity of your flooring whilst creating a safe, clean environment. Commercial door mats are also useful to protect floors in hallways, in front of reception desks and in foyers.
Health & Safety
Without entrance mats, the risk of slips and trips dramatically increases along with cleaning and maintenance costs. Create a safer environment for employees or visitors by deploying absorbent mats at the entry points of your property you will capture any moisture from the outside. High quality entrance mats will keep all the muck, dirt and grime safely trapped.
Branding
With printed doormats available to deploy at your entrances, it is the perfect opportunity to reinforce your company branding and any messages you want to provide to visitors. It is possible to design an entrance to meet your exact requirements.
How Large Does My Door Matting Need to Be?
The most common entrance doormats are 3ft x 5ft or 4ft x 6ft mats depending on the needs of the customer. If using entrance mats that sit both inside and outside of the entrance, then smaller mats work, but if you opt for one or the other, a larger mat will be required. Remember, people are not likely to wipe their feet on an entry door mat and will continue to walk on, so the larger the area covered by entrance matting, the more likely floors in the rest of the building will remain clean and dry.
Speak to our experienced expert team about your entrance mat requirements, who will be happy to advise you.
Entrance Mat Cleaning & Maintenance
Entrance mats designed to be dirt traps but commercial entrances mats from Mats Nationwide are easy to clean and durable. To ensure they last longer and that you get the maximum performance out of them, clean your entrance matting on a regular basis.
Outdoor rubber entrance mats are easy to clean, and when working in tandem with indoor mats will reduce the amount of muck and dirt left on your indoor mats. For indoor entrance mats, depending on the materials used, they may require an occasional deep clean, or for some materials such as coir, a simple brush or vacuum will suffice.
What Types of Entrance Mats Can I Choose From?
All of our entrance doormats are available in a variety of standard, large and runner sizes; alternatively, we can manufacture custom mat sizes.
Heavy-duty door mats are available in a variety of backing but rubber will outlast any other material. Footfall should always be considered when choosing entrance mats, as this part of the building will be the busiest.
Choose from a range of colours, materials and designs to complement your interiors and entrance ways.
Indoor Entrance Floor Mats installed in offices, public building, school and elsewhere as a preventative measure to minimise the amount of dirt brought from the outside.
Outdoor Entrance Mats made from rubber withstand the conditions throughout the year such as rain, snow, ice and exposure to the sun and still protect the entrance to your building.
Custom Size Mats to create an entrance system that matches all of your requirements and fits the space perfectly.
Logo & Branded Mats make a great first impression and greet your visitors at the same time as effectively collating dirt and moisture.
Coir Mats made from coconut husk, are the perfect entrance mat, fit in doorways in a mat well and are customisable to create a professional-looking and practical entrance doormat.
Mat Well Mats or fitted doormats are fixed into place to provide a secure entrance matting system for commercial premises.
Mats Nationwide – Trusted Door Mat Supplier of Over 30 Years
We are the trusted entry door mat supplier to many blue-chip businesses and supply our products to retailers, shops, hotels, restaurants, schools, pubs, bars, offices, and hospitals. Our commercial entrance mats are used UK wide, so check out our customer list and reviews to see for yourself.
Our team pride ourselves on competitive pricing, level of customer service, quality of product and fast efficient turnaround of door matting products.
For enquiries and expert advice contact our team on 01565756152 or email sales@matsnationwide.co.uk or via our Live Chat service.
What our customers say
Kawasaki Motors UK always seeks suppliers and business partners that offer quality competitive pricing, efficiency and excellent customer service. Mats Nationwide promised all of this and we've never been let down
Kawasaki Motors UK
Extremely happy with the service. Wonderful mat, exactly what we were looking for, excellent service, quick delivery!
Fairfax & Favor
Extremely quick turnaround and helpful approach, nothing was ever a problem. Thank you so much.
British Airways
Our personalised mats represent our brand and salon. They are easy to clean and can also be moved anywhere we need.
Toni & Guy
Amazing customer service, pleasure to deal with and nothing we asked was ever too much. Highly recommend!
The Gym Group
Very satisfied with the end product, the service has been excellent and the mat is easy to clean and maintain.
University Of Cumbria
Very satisfied with the end product and the service above all was excellent.
Holiday Inn
The logo mat is great thank you and the service we received from you was excellent.
Lord Alan Sugar - Amsprop Estates Ltd
I have nothing but positive feedback on the service and quality of the branded mats. Always a pleasure working with Mats Nationwide, and we will continue to do so in the future.
Swatch Group
Previous
Next