Hotel & Leisure Mats
First impressions really count at hotels and leisure complexes, and with professional matting in place, it is an opportunity to welcome guests, reinforce branding and assure them that the hotel really cares about cleanliness. Our hotel mats go beyond the entrance point too, with outdoor rubber mats available for around the hotel, anti fatigue mats for staff, leisure mats for pool and spa areas, gym mats and even bar, restaurant and kitchen mats.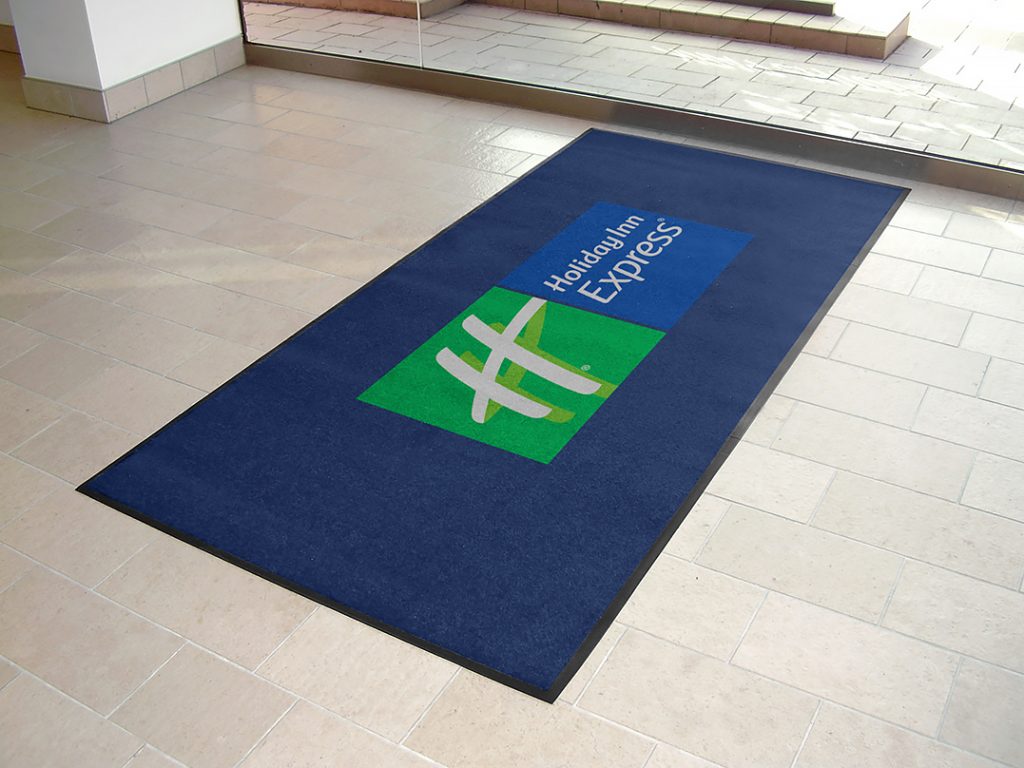 Customised Hotel Entrance Mats
Heavy duty entrance mats for hotels are a great finishing touch for a hotel entrance, especially if they are made to measure for a set space and endorsed with the hotel logo or branding. Adding a splash of colour and quality will reassure guests that they have chosen the best place to stay.
External rubber mats will give guests a chance to wipe their feet and help protect the floors and carpets inside the hotel, while large entrance mats provide a carpeted and absorbent areas for guests to walk over and remove dirt and grit, as well as wheelchairs, pushchairs, suitcase wheels and trollies.
Logo Mats for Hotels
At Mats Nationwide, our high quality and professional mats can be customised with a logo or welcome message. Build a bespoke entrance mat with the colour or logo of your choice, and utilise our expert design team to get a preview before you place an order, ready for you to order with confidence.
Printed logo and message mats are among our most popular products. Beautifully crafted and vibrant, they make the perfect entrance mat for a hotel. Aside from adding décor and touch of class to a hotel, our heavy-duty logo mats deliver unparalleled floor protection.
Gym & Swimming Pool Mats for Hotels
Anti-slip and wet area matting is required in hotels that have swimming or spa facilities to ensure guests are able to safely use the pool areas and changing rooms without any risk of a slip. Rubber mats are ideal for these types of area as they non-slip and offer grip when walking in wet areas. Rubber is also long lasting and easy to keep clean in the interests of hygiene.
Speak to our team about leisure mats or gym mats, which will help, keep the hotel gym and pool areas pleasant and tidy for guests.
Hotel Kitchen & Bar Area Mats
Hotels employees keep things in tip top shape around the hotel and provide an excellent level of customer service. Our specialist kitchen safety mats provide a safe non slip surface that is grease and oil proof for busy hotel kitchen and food preparation areas, to keep chefs and kitchen staff safe. Not only this, but the rubber matting is also cushioned to help prevent fatigue. Anti-fatigue mats are a great investment to keep staff help, healthy and fit for work.
How to Order Hotel Mats from Mats Nationwide
The process for ordering any of our hotel, leisure or gym floor mats is straightforward. For a standard mat, simply complete our online enquiry form outlining the custom size you wish to order along with the colour and any additional information or give our sales a team a call.
If you require any of our hotel or leisure mats urgently, please contact one of our team on 01565 756152 or email sales@matsnationwide.co.uk and we shall endeavour to work with you to meet your businesses target date. We are happy to offer FREE UK delivery and have international delivery available for those looking to purchase hotel mats from overseas.
What our customers say
Kawasaki Motors UK always seeks suppliers and business partners that offer quality competitive pricing, efficiency and excellent customer service. Mats Nationwide promised all of this and we've never been let down
Kawasaki Motors UK
Extremely happy with the service. Wonderful mat, exactly what we were looking for, excellent service, quick delivery!
Fairfax & Favor
Extremely quick turnaround and helpful approach, nothing was ever a problem. Thank you so much.
British Airways
Our personalised mats represent our brand and salon. They are easy to clean and can also be moved anywhere we need.
Toni & Guy
Amazing customer service, pleasure to deal with and nothing we asked was ever too much. Highly recommend!
The Gym Group
Very satisfied with the end product, the service has been excellent and the mat is easy to clean and maintain.
University Of Cumbria
Very satisfied with the end product and the service above all was excellent.
Holiday Inn
The logo mat is great thank you and the service we received from you was excellent.
Lord Alan Sugar - Amsprop Estates Ltd
I have nothing but positive feedback on the service and quality of the branded mats. Always a pleasure working with Mats Nationwide, and we will continue to do so in the future.
Swatch Group
Previous
Next