Heavy Duty Door Mats
Heavy duty mats keep floors clean and safe for employees, visitors, customers or whoever is visiting your property. Impress guests with high quality, premium floor mats that are built to last.
Our commercial-grade heavy-duty entrance mats help to portray a professional image, as they are often the first interaction a visitor may have with your property. We stock a range of heavy-duty door mats to suit every budget but never compromise on quality. Whether it's for an office, foyer or a busy superstore, our heavy duty door mats are also available with your very own logo or branding added.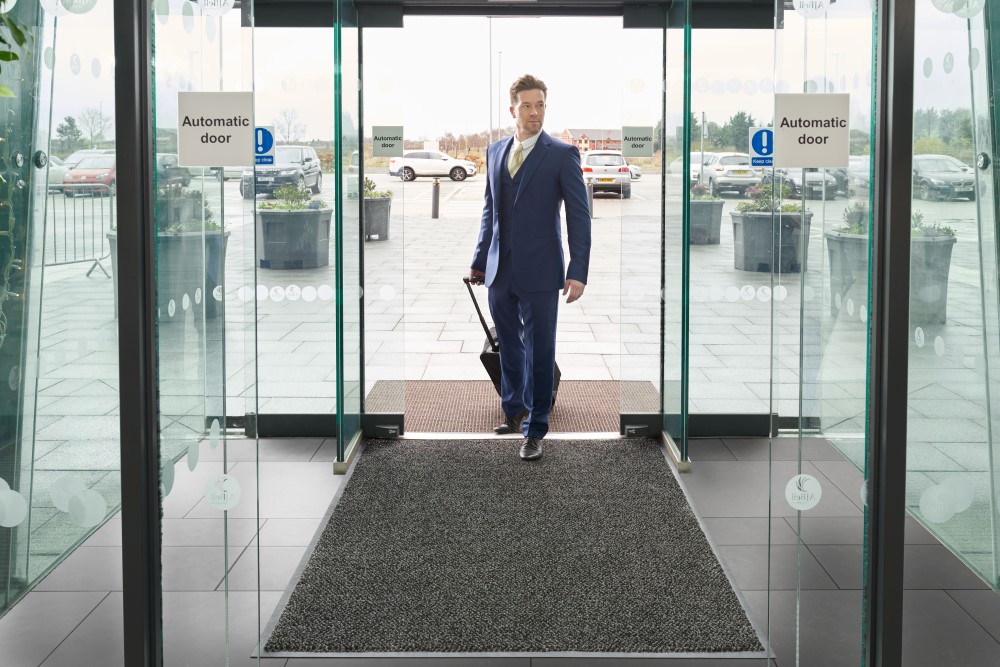 Heavy Duty Entrance and Logo Mats
Our range of mats are suitable for entrances and are available in custom sizes to slot into any entrance area, indoor or out. Likewise, if you want to add a logo or branding to a heavy-duty mat order, our design team will get to work crafting a preview, ready for you to sign off and order once you are completely satisfied.
What Makes Heavy Duty Door Mats Unique?
Heavy duty matting is often a little more expensive than standard entrance mats due to the unique dual performing fibres that act to scrape and wipe. The abrasive mono-filament fibres remove coarse, heavy dirt from passing soles whilst the high-twist, fine, heat-set fibres, absorb and keep fine dust, dirt and moisture in the mat.
The majority of heavy duty mats come with heavy rubber backing to hold the mat in place, and thick carpet pile to absorb the moisture on the shoes of visitors, even in the busiest of locations.
Heavy Duty Door Mats for Mat Wells
Heavy duty floor mats are suitable for internal mat wells and can be ordered without a border to sit in a recess. However, a thick rubber backing is applied to add stability when placed into the well.  We recommend adding extra length and width to recessed mat orders, as it is easy enough to trim the product on site for a secure fit.
Absorbent Heavy Duty Entrance Mats
Managing the winter weather is a common challenge faced by retail locations, offices and schools, with masses of footfall heading through the entry point. It can be a real effort keeping floors dry and safe, but heavy duty entrance mats are one way to help out the caretaker.
Heavy rain or snowy conditions require absorbent mats to keep water away from the floors and reduce the risk of slip accidents. Mats Nationwide will be able to advise on the best types of mat and give insight into how a matting system would work as an effective barrier from the bad weather.
With heavy duty outdoor and indoor options available, we will find a custom solution just for you.
Cleaning Heavy Duty Floor Mats
Heavy-duty entrance mats do require regular cleaning for optimum performance and to ensure they last longer. A number of our commercial mats are machine washable at a temperature of 60 degrees, dependent on the size of the mat.
For large heavy-duty door mats, simply vacuuming over the mat frequently when it is dry, will remove the dust and dirt captured. Keeping a heavy-duty entrance mat clean will help manage cleaning in the rest of the building, by stopping the grime and moisture at the source.
How to Order Heavy Duty Door Mats from Mats Nationwide
The process for ordering a heavy duty entrance mat is straightforward. If you are thinking of adding a logo, brand or message to a heavy duty entrance mat, email the details through to our design team and confirm the quantity, product and size required. We will provide a complimentary visual for your approval to show the finished heavy duty floor mats.
We have a huge colour palette to choose from for barrier mats and can Pantone colour match if strict brand guidelines need to be adhered to. For a standard heavy duty floor mat, simply complete our online enquiry form outlining the custom size you wish to order along with the colour and any additional information or give our sales a team a call.
If you require heavy duty door mats as soon as possible, please contact one of our team on 01565 756152 or email sales@matsnationwide.co.uk and we shall endeavour to work with you to meet your businesses target date. We are happy to offer FREE UK delivery and have international delivery available for those looking to purchase heavy duty entrance from overseas.
What our customers say
Kawasaki Motors UK always seeks suppliers and business partners that offer quality competitive pricing, efficiency and excellent customer service. Mats Nationwide promised all of this and we've never been let down
Kawasaki Motors UK
Extremely happy with the service. Wonderful mat, exactly what we were looking for, excellent service, quick delivery!
Fairfax & Favor
Extremely quick turnaround and helpful approach, nothing was ever a problem. Thank you so much.
British Airways
Our personalised mats represent our brand and salon. They are easy to clean and can also be moved anywhere we need.
Toni & Guy
Amazing customer service, pleasure to deal with and nothing we asked was ever too much. Highly recommend!
The Gym Group
Very satisfied with the end product, the service has been excellent and the mat is easy to clean and maintain.
University Of Cumbria
Very satisfied with the end product and the service above all was excellent.
Holiday Inn
The logo mat is great thank you and the service we received from you was excellent.
Lord Alan Sugar - Amsprop Estates Ltd
I have nothing but positive feedback on the service and quality of the branded mats. Always a pleasure working with Mats Nationwide, and we will continue to do so in the future.
Swatch Group
Previous
Next