Washable Entrance Mats
Keep the entrance mats at your front door clean and fresh with a washable door mat from Mats Nationwide. Washable door mats for indoors have all the benefits of any entrance mat, but with the bonus of being able to pop it into the washing machine to give a good clean every so often.
Read More
Our washable door mats will hold on to their shape, size and colours time after time, allowing you to wash them as often as you in order to leave a great first impression on any visitor or guest.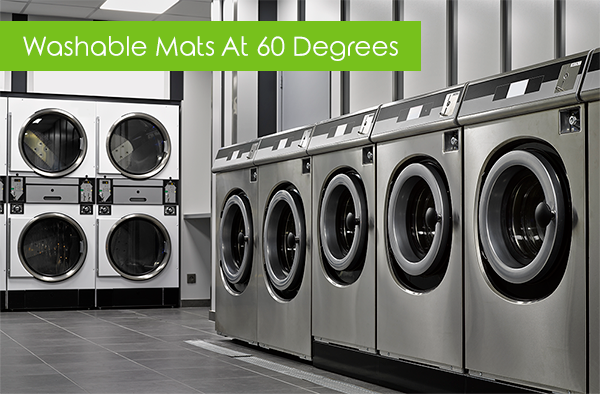 Are Doormats Washable?
Washable door mats sourced from a specialist supplier are definitely washable. They should be washed at a relatively moderate temperature of 30 to 40 degrees, but many of our products can be washed and tumble-dried at up to 60 degrees.
Given the pandemic in 2020, washable door mats have become more popular as facility managers and homeowners look to keep on top of cleanliness, and what better place to start than with a clean entrance mat. Give off a great impression with a neat and tidy entrance or reception area, aided by freshly laundered entrance mats.
How Do You Wash an Entrance Mat?
Doormats should be washed at a medium temperature with normal detergent, but avoid conditioner.
Choose from 30 classic colours to create your branded washable mat, or match your corporate colours as we offer quotes for pantone colour match. Our washable front door mats are designed to be regularly washed and so will not fade.
With a washable doormat, you can enjoy all of the features of a regular entrance mat with the added benefit of being able to clean it easily in a washing machine. Whether it's a door mat for your home, office or commercial building, our machine washable door mats are an excellent way to enhance the appearance of your entrance whilst keeping floors clean and dry.
Machine Washable Door Mats
At Mats Nationwide, we stock a huge range of entrance mats, many of which are machine washable. There are some exceptions, such as an extra large mat, which will simply be too big, or coir entrance mats. These types of mat can be cleaned when dry using a vacuum.
However, for most of our entrance mats, a machine wash will keep them in great condition to help keep the property clean.
Washable Logo Mats
Our printed logo mats are high performance designed to withstand heavy footfall and protect your floors from the tough dirt, grit, dust and moisture walked into your business daily. It is possible to machine wash these and the logo will remain vibrant and in place.
How to Order Washable Door Mats from Mats Nationwide
The process for ordering a washable front door mat is straightforward. If you are thinking of adding a logo, brand or message to a washable mat, email the details through to our design team and confirm the quantity, product and size required. We will provide a complimentary visual for your approval to show the finished washable entry mat.
Simply complete our online enquiry form outlining the custom size you wish to order along with the colour and any additional information or give our sales a team a call.
If you require washable entry mats urgently, please contact one of our team on 01565 756152 or email sales@matsnationwide.co.uk and we shall endeavour to work with you to meet your businesses target date. We are happy to offer FREE UK delivery and have international delivery available for those looking to purchase washable mats from overseas.
What our customers say
Kawasaki Motors UK always seeks suppliers and business partners that offer quality competitive pricing, efficiency and excellent customer service. Mats Nationwide promised all of this and we've never been let down
Kawasaki Motors UK
Extremely happy with the service. Wonderful mat, exactly what we were looking for, excellent service, quick delivery!
Fairfax & Favor
Extremely quick turnaround and helpful approach, nothing was ever a problem. Thank you so much.
British Airways
Our personalised mats represent our brand and salon. They are easy to clean and can also be moved anywhere we need.
Toni & Guy
Amazing customer service, pleasure to deal with and nothing we asked was ever too much. Highly recommend!
The Gym Group
Very satisfied with the end product, the service has been excellent and the mat is easy to clean and maintain.
University Of Cumbria
Very satisfied with the end product and the service above all was excellent.
Holiday Inn
The logo mat is great thank you and the service we received from you was excellent.
Lord Alan Sugar - Amsprop Estates Ltd
I have nothing but positive feedback on the service and quality of the branded mats. Always a pleasure working with Mats Nationwide, and we will continue to do so in the future.
Swatch Group
Previous
Next