School Mats
Mats Nationwide are one of the UK's leading suppliers of school mats, specialising in logo, custom, recessed, coloured and absorbent mats to hundreds of educational establishments throughout the country. We are also an approved supplier within the Kaltz Schools Procurement Directory, which ensures that only companies that have dealt with schools are listed.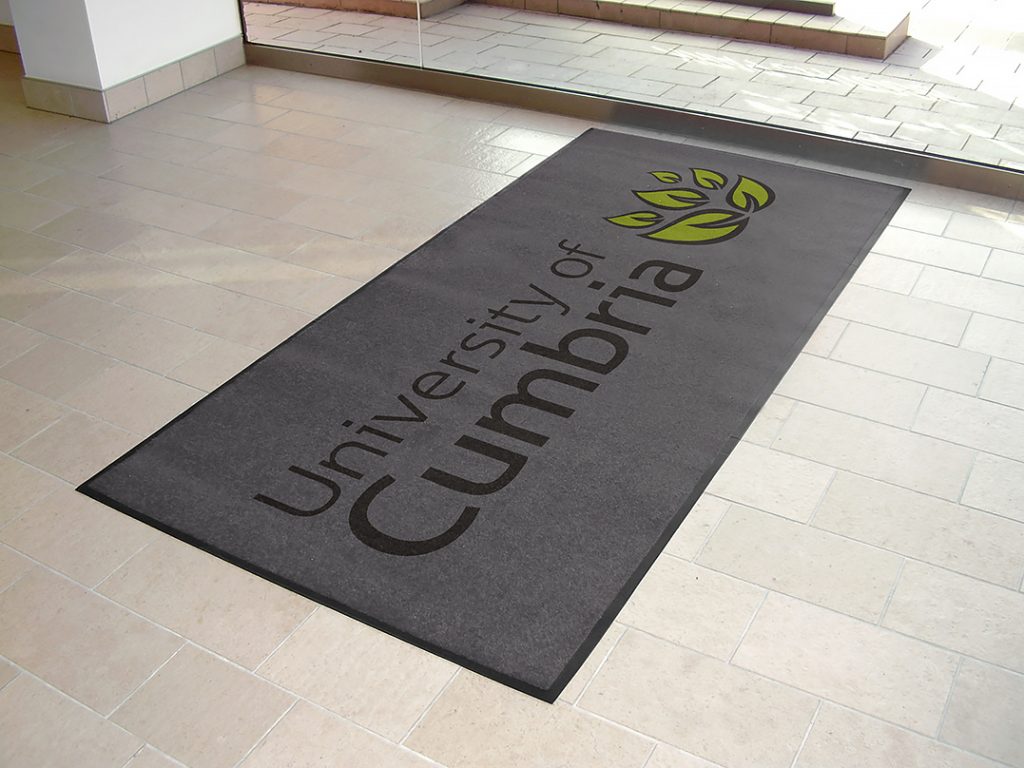 School Entrance Mats
Educational premises have a huge amount of foot traffic on a daily basis and without entrance matting, 1,500 people can remove 42% of the finish from your school's floors. It is therefore paramount that the correct type of commercial matting is in place not only to protect floors but to ensure they remain safe, clean and dry for pupils, staff and visitors to walk across. We can supply extra large doormats to help create a better working environment, and absorbent door mats to soak up water dragged indoors during the winter months.
School Logo Mats
Logo door matting remains a best seller for schools as it's a chance to reinforce your school colours, emblem or personal message. Available in four styles; Printed, Coir, Brush and Rubber, each heavy duty item is custom made to your bespoke specification. Printed and coir products are ideal for indoor use, whereas brush and rubber have been designed specifically for outdoors to withstand the elements.
Many schools often ask pupils to design a school picture to go onto the mat, which adds a lovely personal touch.
Free artwork is supplied for all custom products and there's no additional charge for changes made to visuals.
Delivery timescales range from 5 -10 working days from approval of artwork.
As well as branded logo mats, we can offer a range of products suitable for use within the schools and educational sector, all available in a range of colours and sizes.
"A 10 year long study highlighted the importance of entranceways, finding that students when visiting colleges, schools and universities largely based their selections on the appearance of the campus – specifically entranceways" (Cleaning & Maintenance Management)
For further information, prices or samples on any of our school matting products call us on 01565 756152 or email sales@matsnationwide.co.uk
We accept purchase orders and payment can be made by either cheque, BACS or card.
What our customers say
Kawasaki Motors UK always seeks suppliers and business partners that offer quality competitive pricing, efficiency and excellent customer service. Mats Nationwide promised all of this and we've never been let down
Kawasaki Motors UK
Extremely happy with the service. Wonderful mat, exactly what we were looking for, excellent service, quick delivery!
Fairfax & Favor
Extremely quick turnaround and helpful approach, nothing was ever a problem. Thank you so much.
British Airways
Our personalised mats represent our brand and salon. They are easy to clean and can also be moved anywhere we need.
Toni & Guy
Amazing customer service, pleasure to deal with and nothing we asked was ever too much. Highly recommend!
The Gym Group
Very satisfied with the end product, the service has been excellent and the mat is easy to clean and maintain.
University Of Cumbria
Very satisfied with the end product and the service above all was excellent.
Holiday Inn
The logo mat is great thank you and the service we received from you was excellent.
Lord Alan Sugar - Amsprop Estates Ltd
I have nothing but positive feedback on the service and quality of the branded mats. Always a pleasure working with Mats Nationwide, and we will continue to do so in the future.
Swatch Group
Previous
Next