Mat Well & Recess Mats
Sunken doors mats, also known as recessed doormats, create a great look at the entrance of a building and look very professional. Many businesses opt for a recessed mat well mat as it prevents any issues with entrance mats moving or slipping as the mat will sit tucked safely in its recessed position. It also prevents an entrance mat from folding at the corners as it is recessed into the floor so it will remain secure. A recessed mat in a tiled floor entrance is a hugely effective way to greet visitors and keep your property clean.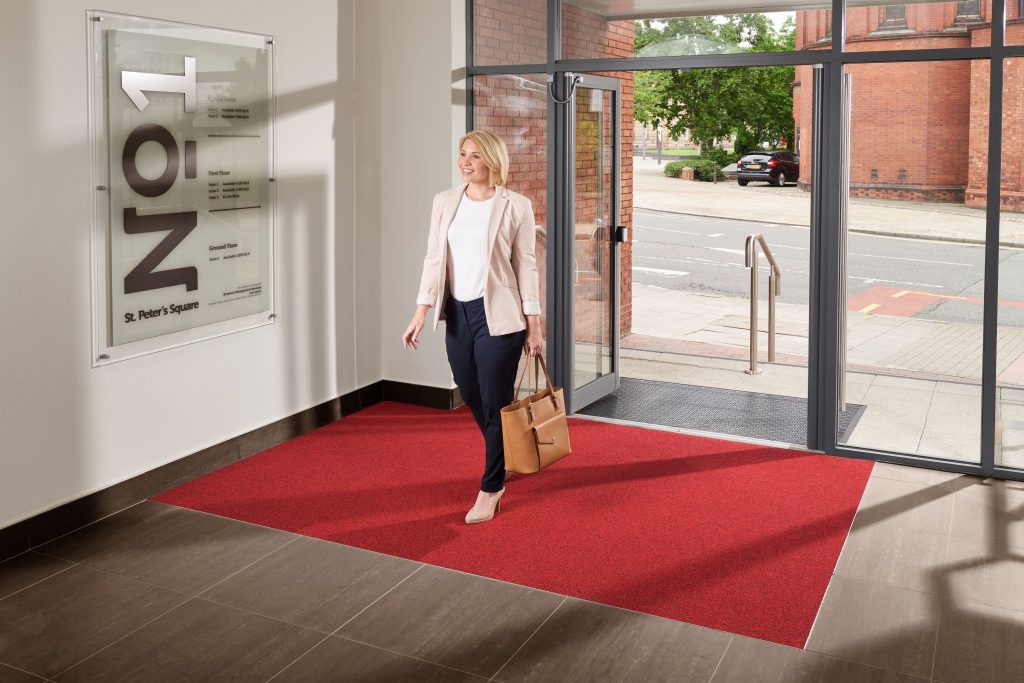 Our range of sunken doormats and recessed entrance mats come in a variety of styles ranging from natural coir mat wells to heavy-duty nylon carpet pile matting that is ultra-absorbent of any muck and dirt brought in from outdoors. We provide made to measure sunken door mats so if you need a recessed doormat, get in touch and we will be happy to help and can even provide bespoke recessed entrance mats complete with your logo to represent your brand.
Recessed Floor Mat Features
Our recessed mat well mats are a hugely popular product line. Recessed door mat sit flush with a tiled floor or other types of flooring, and are available to buy in a range of sizes and styles.
Rubber backed recessed mats– recessed entrance mats are made heavy natural rubber or strong hard wearing PVC backing ready to sit tight in a mat well to help keep entrances and floors throughout your property clean.
Custom Sizes – choose a recessed mat for any thickness of mat well and cut to perfectly fit your property. With coir mat well mats, it is possible to cut the mat yourself in order for it to snugly fit at the entrance.
Heavy Duty & Effective Barriers – available in a range of absorbent materials, recessed entrances mats are heavy-duty to ensure they last for years. A sunken doormat is an effective method of collecting dirt, dust and moisture from the outside world, putting in place a barrier to protect your floors.
Keep Entrances Accessible – schools, hospitals, retailers, places of worship and offices need to make sure wheelchairs and pushchairs can access their property with ease. Sunken door mats recessed into the floor accommodate this creating a level surface accessible to all at the entrances of commercial or industrial properties.
Choosing a Recessed Mat Well Mat
Recessed mats are available in a range of styles, colours and sizes, with custom logo or branding options available.  Recessed entrance mats could well be the first thing people see when arriving, so selecting the right sunken door mat is very important to greet guests and provide them with a surface to wipe their shoes on, especially in the winter months.
Custom branding of recessed mats will enhance the overall look of any premises. An effective and classic look is a naturally absorbent coir mat, with a black printed logo or message. Equally impressive are printed logo floor mats, customised with brand colours to fit with the design of the entrance.
Sunken door mats are incredibly hard wearing and practical for any entrance where there is heavy footfall such as in schools or retail outlets.
How to Clean a Recessed Entrance Mat
Recessed entrance mats are easy to clean and keep tidy.  A vacuum or sweep of the debris collected on the surface of a coir mat well mat will keep it looking tidy and working effectively. You can also lift out the mat from the recessed mat well to clean underneath if required.
Other recessed mats are machine washable if small enough, while others are durable enough to undergo a deep clean, ideal if in use in a healthcare facility.
Mats Nationwide – Trusted Recessed Entrance Mat Supplier of Over 30 Years
We are the trusted sunken door mat supplier to many blue-chip businesses and supply our products to retailers, shops, hotels, restaurants, schools, pubs, bars, offices, and hospitals. Our recessed entrance mats are used UK wide, so check out our customer list and reviews to see for yourself.
Our team pride itself on competitive pricing, level of customer service, quality of product and fast efficient turnaround of products.
For enquiries and expert advice contact our team on 01565756152 or email sales@matsnationwide or via our Live Chat service.
What our customers say
Kawasaki Motors UK always seeks suppliers and business partners that offer quality competitive pricing, efficiency and excellent customer service. Mats Nationwide promised all of this and we've never been let down
Kawasaki Motors UK
Extremely happy with the service. Wonderful mat, exactly what we were looking for, excellent service, quick delivery!
Fairfax & Favor
Extremely quick turnaround and helpful approach, nothing was ever a problem. Thank you so much.
British Airways
Our personalised mats represent our brand and salon. They are easy to clean and can also be moved anywhere we need.
Toni & Guy
Amazing customer service, pleasure to deal with and nothing we asked was ever too much. Highly recommend!
The Gym Group
Very satisfied with the end product, the service has been excellent and the mat is easy to clean and maintain.
University Of Cumbria
Very satisfied with the end product and the service above all was excellent.
Holiday Inn
The logo mat is great thank you and the service we received from you was excellent.
Lord Alan Sugar - Amsprop Estates Ltd
I have nothing but positive feedback on the service and quality of the branded mats. Always a pleasure working with Mats Nationwide, and we will continue to do so in the future.
Swatch Group
Previous
Next