Anti-Slip Mats
Anti-slip mats are essential in environments where liquids, oils, grease, chemicals and similar contaminants are present.
Non slip floor mats should be acquired from an industry expert such as Mats Nationwide, as our team will be able to advise the best non -slip matting for the environment. We have a range of anti-slip mats available in various surface finishes, with drainage holes and chemical resistant qualities.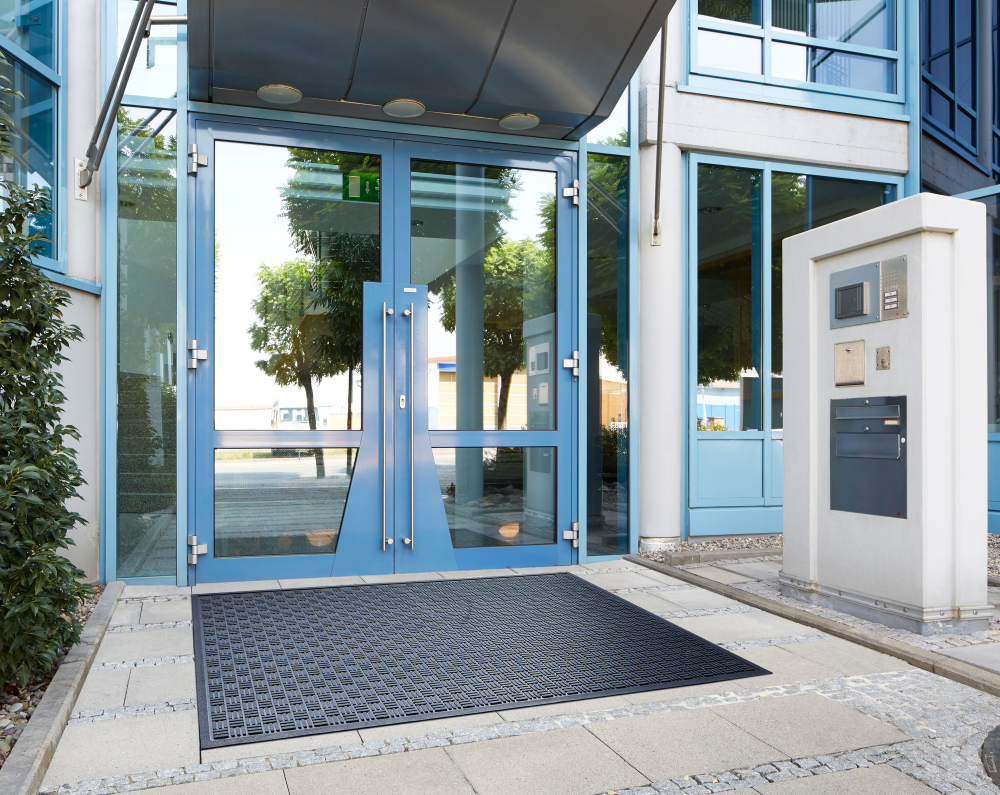 Non Slip Floor Mats
We stock a range of non slip floor mats including rubber backed mats, rubber mats, and heavy duty entrance mats that have non slip qualities, while we also stock specialist mats for specific work areas such as anti slip swarf mats for welding, or leisure mats for swimming pool and wet areas.
Browse our range of non slip mats and feel free to contact us if you require any assistance in choosing the perfect anti slip matting.
Non Slip Door Mats
Many of our mats are produced with slip-resistant backing, which helps keep the mat in place and reduces the risk of slips and falls. Entrances are an area where safety is a concern. Water and dirt is transported into reception areas or foyers, and if the floor is hard or tiled this poses a slip risk. Our non slip mats will hold fast on the floor and retain their position allowing visitors to wipe the moisture off their shoes. Hard wearing and heavy duty, our rubber backed mat range is non slip, while we also supply mat well mats that will sit in a recessed floor.
We also stock rubber outdoor mats, suitable for any weather conditions and that provide a safe area for shoes to be wiped on.
Features of Anti Slip Matting
An anti slip mat isn't just a standard rubber mat. The features that make an anti slip mat effective are listed below and should be considered in the process of choosing a non slip mat.
Textured surface
Textured surfaces improve safety by increasing grip underfoot. Pebble surfaces or rubber moulded tops provide sturdy grip even in oily conditions. Different types of non-slip floor mats may also feature a diamond pattern surface to provide a good level of grip.
Drainage holes
Drainage holes prevent liquids and swarf (fine chips of stone or metal) from collating on the mats surface, by allowing them to fall through and preventing them from becoming a slip or trip risk.
Chemical resistance
Industrial, engineering and food industries have tough working conditions, where floors are subjected to liquids, oils, or grease. Non slip floor mats manufactured from 100% nitrile offer excellent resistance to oils, chemicals and grease. The temperature in each working environment will also affect the type of matting required.
Non-Flammable
Self-extinguishing mats are vital in some working environments. We stock a range of non slip mats tested for this quality.
Anti Slip Mats for Welding
Anti Slip Swarf Mats are durable welding mats manufactured with an embossed anti-slip rubber top surface, bonded to closed-cell rubber foam base.  Bevelled on all four sides for safety our anti slip mats are ideal for heavy duty use in dry industrial environments such as welding areas.
What Locations Require Non Slip Floor Mats?
Safety matting is important in areas where the slip risk is high, including at leisure complexes, in commercial kitchens and for industrial settings such as manufacturing and engineering.
Leisure Centres
Swimming pools and spas are hotspots for slips, trips and fall, especially where water collects at the edge of the pool, in changing areas and showers. Using anti-slip matting swimming pools mats, it is possible to drain surplus water from the mat's surface and provide a safer surface to walk on.
Hygiene is also essential for the leisure industry, so our easy to clean non slip swimming pools mats are perfect for around the pool and in the changing rooms.
Manufacturing
Slips and falls in the workplace are damaging, as not only is it unpleasant for the employee, but also in terms of company productivity and reputation.  Avoid the headache by choosing the right anti slip matting and minimise health and safety risks.
Our range of anti-fatigue and anti-slip mats include swarf options, duckboards, as well as oil, grease and waterproof mats. Safety mats used in manufacturing or engineering environments need to be resilient to grease and aggressive oils and be constructed with the right materials underneath to prevent them from moving or slipping.
Kitchens
Commercial kitchens are often very busy and dangerous environments. Avoid slip and fall accidents by introducing anti-slip matting, resistant to grease, oil and water with anti-microbial properties. Cleaning is simple, with either a hose and dry method, vacuum or damp cloth wash, the anti slip  kitchen safety mats are perfect for kitchens, bars, cafes or any food preparation area.
How to Order Non Slip Floor Mats from Mats Nationwide
The process for ordering an anti slip mat is straightforward. Simply add standard sized mats to the basket, or complete our online enquiry form outlining the custom size you wish to order along with any additional information or give our sales team a call.
If you require anti slip matting urgently, please contact one of our team on 01565 756152 or email sales@matsnationwide.co.uk and we shall endeavour to work with you to meet your businesses target date. We are happy to offer FREE UK delivery and have international delivery available for those looking to purchase non slip floor mats from overseas.
What our customers say
Kawasaki Motors UK always seeks suppliers and business partners that offer quality competitive pricing, efficiency and excellent customer service. Mats Nationwide promised all of this and we've never been let down
Kawasaki Motors UK
Extremely happy with the service. Wonderful mat, exactly what we were looking for, excellent service, quick delivery!
Fairfax & Favor
Extremely quick turnaround and helpful approach, nothing was ever a problem. Thank you so much.
British Airways
Our personalised mats represent our brand and salon. They are easy to clean and can also be moved anywhere we need.
Toni & Guy
Amazing customer service, pleasure to deal with and nothing we asked was ever too much. Highly recommend!
The Gym Group
Very satisfied with the end product, the service has been excellent and the mat is easy to clean and maintain.
University Of Cumbria
Very satisfied with the end product and the service above all was excellent.
Holiday Inn
The logo mat is great thank you and the service we received from you was excellent.
Lord Alan Sugar - Amsprop Estates Ltd
I have nothing but positive feedback on the service and quality of the branded mats. Always a pleasure working with Mats Nationwide, and we will continue to do so in the future.
Swatch Group
Previous
Next