Dust Control Mats
A protective dust mat deployed in the correct place can prevent the spread of harmful germs and dirt, whether that be in an office, school or hospital, and can minimise the issues this can cause. Dust can transport all kinds of nasty unwanted surprises, so mats are frequently purchased by our customers looking to reduce the amount of dirt brought into their building. Our dust matting is also suitable for frequent cleaning in order to remain hygienic.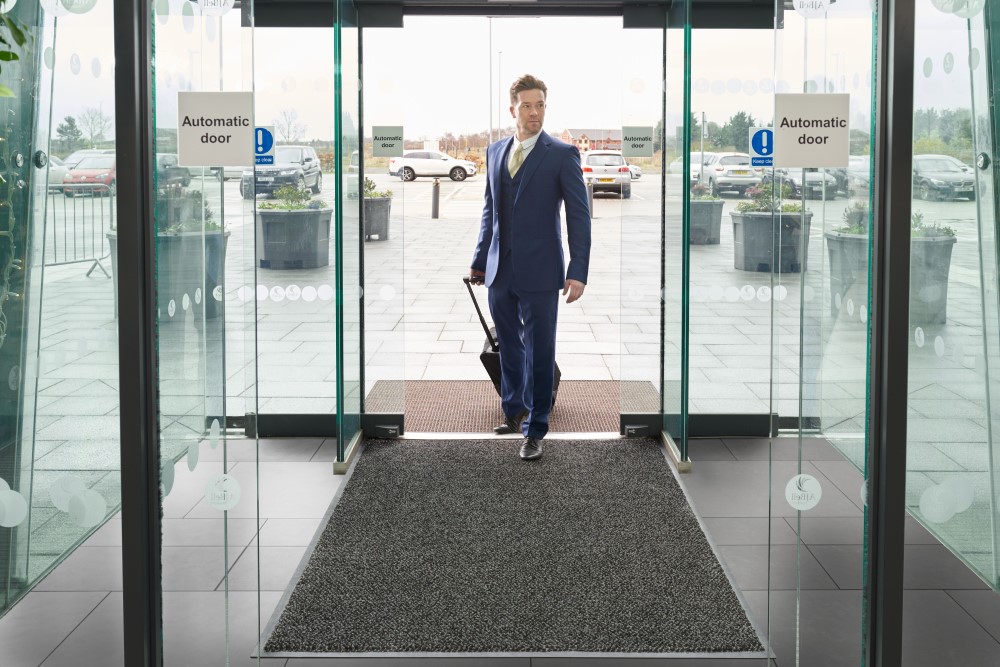 Protective Floor Mats for Dust
Entrance dust mats control and reduce the amount of muck, dirt and grime at source and a large dust mat will go a long way to gather and stop a large amount unwanted mess coming into an office or workplace. Shared warehouse and office sites are prime locations for dust mats to be used, preventing clean offices from being tarnished with dirt and dust. Rubber backed entrance mats positioned both inside and outside of any building will provide a safer, cleaner and dust-free workspace. Protect your workplace with our specialist floor mats designed to reduce the transportation of both dirt and dust.
Prevent the Spread of Dust with Dust Control Matting
Dust control mats are an indoor mat used to collect and hold on to the fine dirt and dust inside a property. Used in office, schools, universities or even health care locations, they help to manage dirt inside the building and to keep carpets and floors looking clean and tidy.
Non-slip premium nitrile rubber backed mats are suitable for almost any floor types and help to collate dust from shoes as people walk around the building. However, with tapered rubber borders, they give wheeled access for prams, wheelchairs and trolleys.
Dust Control at Entrances
Much like a barrier mat, dust control mats are used as a barrier and dust deterrent at entrances. Suitable for indoor use, our hard wearing dust control mats collect the finer dust particles left once visitors, staff or guests have walked through any outdoor or entrance matting.
Example areas of where to use dust control mats include in commercial properties for reception areas, foyers, in corridors, lifts, stairwells and at the entrance points of internal doorways. If you are keen on improving the air quality within the building, we recommend deploying dust mats to capture any excess particles throughout the property.
Add a Logo to Dust Mats
Dust mats from Mats Nationwide are customisable to add your logo or brand colours on, to reinforce company messaging throughout the building. The dust control printed logo mat is a high performance indoor mat designed to withstand heavy footfall and protect your floors from grit, dust and moisture that is walked into your business daily.
Free artwork visuals are created prior to ordering your entry mat. These can be amended at no extra charge.
Cleaning Dust Mats
Dust control mats need to be cleaned in order to remain effective and dust free. Many of our dust control mats are machine washable, but a regular hoover will remove all the dust they have collected, allowing the maintenance teams to safely dispose of the dust and dirt, leaving the mat looking fresh and tidy. At Mats Nationwide, we also stock water trapping absorbent doormats, for areas that suffer from wet footfall such as entrances from the outside.
Benefits of Dust Control Mats
Dust control mats are generally similar to an entrance mat with an absorbent carpet pile on a rubber backing and help to control dust and dirt on site.
The main benefit of a dust control mat is to keep a property clean, the air quality optimised and prevent the spread of germs and dirt. A prime location for a dust control mat is a warehouse and office shared facility. Warehouses are full of ingoing and outgoing stock, meaning it is often very dusty and dirty. A dust control mat deployed at the entrance back into the office will help restrict the movement of warehouse dust into the rest of the building.
How to Order Dust Control Mats from Mats Nationwide
The process for ordering a dust control mat is straightforward. Simply add standard sized mats to the basket, or complete our online enquiry form outlining the custom size you wish to order along with any additional information or give our sales a team a call.
If you are thinking of adding a logo, brand or message to a dust control matting order, email the details through to our design team and confirm the quantity, product and size required. We will provide a complimentary visual for your approval to show the finished coir entrance mat. We have a huge colour palette to choose from for barrier mats and can Pantone colour match if strict brand guidelines need to be adhered to.
Get in Touch
If you require dust control matting urgently, please contact one of our team on 01565 756152 or email sales@matsnationwide.co.uk and we shall endeavour to work with you to meet your businesses target date. We are happy to offer FREE UK delivery and have international delivery available for those looking to purchase dust control mats from overseas.
What our customers say
Kawasaki Motors UK always seeks suppliers and business partners that offer quality competitive pricing, efficiency and excellent customer service. Mats Nationwide promised all of this and we've never been let down
Kawasaki Motors UK
Extremely happy with the service. Wonderful mat, exactly what we were looking for, excellent service, quick delivery!
Fairfax & Favor
Extremely quick turnaround and helpful approach, nothing was ever a problem. Thank you so much.
British Airways
Our personalised mats represent our brand and salon. They are easy to clean and can also be moved anywhere we need.
Toni & Guy
Amazing customer service, pleasure to deal with and nothing we asked was ever too much. Highly recommend!
The Gym Group
Very satisfied with the end product, the service has been excellent and the mat is easy to clean and maintain.
University Of Cumbria
Very satisfied with the end product and the service above all was excellent.
Holiday Inn
The logo mat is great thank you and the service we received from you was excellent.
Lord Alan Sugar - Amsprop Estates Ltd
I have nothing but positive feedback on the service and quality of the branded mats. Always a pleasure working with Mats Nationwide, and we will continue to do so in the future.
Swatch Group
Previous
Next