Runner Mats
If you are looking for floor runners for entrances or hallways, our long and durable runner mats will fit the bill. Floor runners not only act as excellent dirt trappers in places where traffic is high, but they also help protect the floor from wear and tear.
Read More
A runner mat purchased from Mats Nationwide can come in a number of styles suitable for your exact needs, with or without your company logo. We can cater to those who need a doormat runner for an outdoor or indoor space, provide you with extra-large mats for big spaces or help you get more for your money with our budget options.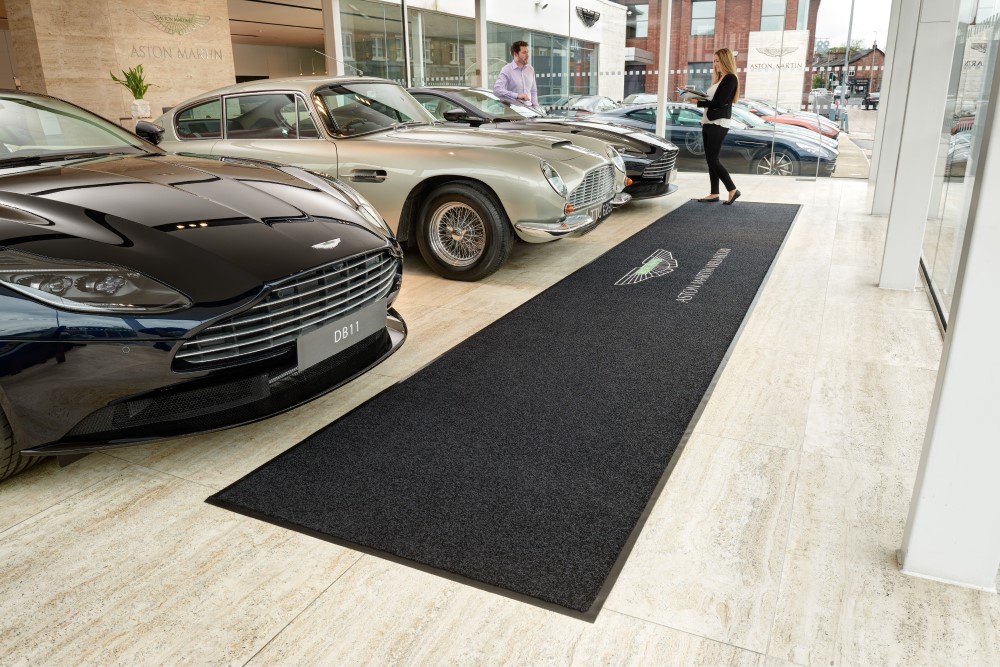 Floor Runners for Commercial Property
Choosing the right entrance matting is crucial but it is also key not to overlook the length of the entrance mat. Floor runners are the perfect solution to this, giving sufficient length for people to walk over and remove any excess dirt or moisture.
In addition, entrance mats need to allow enough room for the full rotation or pram wheels or wheelchairs, to dry off any moisture collated from the outside world. Purchasing runner mats that are long enough will pay off in the long run, protecting your internal floors and keep cleaning costs in check.
Runner Mats For Office Spaces
Whether you need a runner mat for the entrance to the office or one for a breakout area, our floor runners are ideal to use in an office space.
It is possible to add company branding or logos to a runner mat, to brighten up office areas and make the space more inviting. Floor runners help to protect the flooring and with rubber backing helps reduce any noise.
Floor Runners for Dust & Dirt Control
Reducing the spread of dust and dirt in an office space is important for hygiene and presentation. Office workers prefer to work in a clean and tidy environment, with dust under control through the use of floor runners at the entrance point.
Many of our floor runners are composed of dyed nylon carpet pile, which is super absorbent and provides superior colour and wash fastness.  The plush pile creates a warm welcome underfoot and the 'flecked' colours cleverly disguise dirt and dust. The high twist fibres are also resistant to crushing and allow dirt to filter into the mat rather than remaining on top of the carpeted surface.
Cleaning Runner Mats
Many of our carpet pile floor runner mats are machine washable up to 60 degrees and tumble dry safe up to the same temperature. Other cleaning options are vacuuming or steam cleaning, ideal for large runner mats that are too big for a washing machine.
Other runner mats on offer are rubber construction, these can be swept or pressure washed to remain clean and effective.
How to Order a Floor Runner Mat from Mats Nationwide
The process for ordering a floor runner mat is straightforward. Simply ad standard sized mats to the basket, or complete our online enquiry form outlining the custom size you wish to order along with any additional information or give our sales a team a call.
If you require a runner mat urgently, please contact one of our team on 01565 756152 or email sales@matsnationwide.co.uk and we shall endeavour to work with you to meet your businesses target date. We are happy to offer FREE UK delivery and have international delivery available for those looking to purchase runner mats from overseas.
What our customers say
Kawasaki Motors UK always seeks suppliers and business partners that offer quality competitive pricing, efficiency and excellent customer service. Mats Nationwide promised all of this and we've never been let down
Kawasaki Motors UK
Extremely happy with the service. Wonderful mat, exactly what we were looking for, excellent service, quick delivery!
Fairfax & Favor
Extremely quick turnaround and helpful approach, nothing was ever a problem. Thank you so much.
British Airways
Our personalised mats represent our brand and salon. They are easy to clean and can also be moved anywhere we need.
Toni & Guy
Amazing customer service, pleasure to deal with and nothing we asked was ever too much. Highly recommend!
The Gym Group
Very satisfied with the end product, the service has been excellent and the mat is easy to clean and maintain.
University Of Cumbria
Very satisfied with the end product and the service above all was excellent.
Holiday Inn
The logo mat is great thank you and the service we received from you was excellent.
Lord Alan Sugar - Amsprop Estates Ltd
I have nothing but positive feedback on the service and quality of the branded mats. Always a pleasure working with Mats Nationwide, and we will continue to do so in the future.
Swatch Group
Previous
Next