Barrier Mats
We provide barrier entrance mats in a variety of formats including heavy-duty mats, rubber entrance mats and the ever-popular logo barrier doormats for commercial premises that want to make a great first impression.
Read More
What is a Barrier Mat?
Barrier matting provides protection at the entrance of your premises acting as a literal barrier preventing the transportation of dust and dirt into the building. Barrier mats are often carpet pile on a rubber backing, providing a location for visitors to wipe dust, dirt and moisture from their shoes.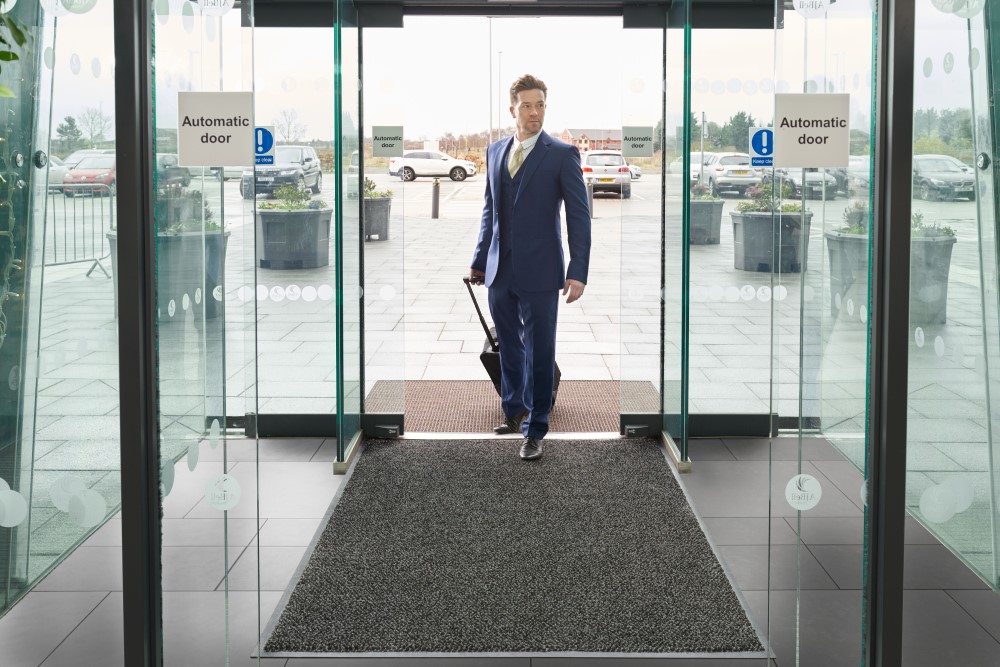 Barrier Mats for Entrances
Barrier mats need to be hard-wearing, especially for locations with large volumes of footfall and they are a wise investment as they will assist with keeping your entrance looking clean and tidy. Mats Nationwide provide protective barrier mats to a wide variety of clients across a number of industries.
Our barrier mats for entrances are available in various materials offering protection for floors even the busiest of locations. Our barrier mats come with a sturdy rubber backing suitable for use in commercial environments to ensure they are non-slip and last a lot longer.
Outdoor Barrier Mats
Outdoor barrier mats reduce the level of dust, dirt and mud carried into your building. Large barrier entrance mats are best, as they offer more surface area to capture dirt from footfall and the wheels of wheelchairs and pushchairs.
Rubber Barrier Mats
Rubber barrier mats are best for outside, as the rubber will last in the wet conditions of winter and stand up to the summer sun. We have rubber bristle mats, rubber scraper mats and honeycomb mats all of which are effective barriers to deploy at your entrances.
Indoor Barrier Mats
A good indoor barrier mat should help to cut cleaning costs and reduce the risk of wet floors and trip hazards. Not only this, but a barrier entrance mat will keep a reception or foyer looking clean and with logo matting available from Mats Nationwide, it is possible to personalise the mat to offer a welcome or reinforce a brand.
Most of our indoor barrier mats are easy to clean, as they are machine washable or will stand up to a steam clean or regular vacuum. In order to remain effective and last longer, we recommend a regular clean.
Customers Who Use Barrier Mats
Barrier mats are used widely in properties across the UK, to improve hygiene in commercial and public places. Looking for unequalled water retention and excellent dirt and dust retention? Why not purchase a barrier mat?
To name a few examples of customers we supply barrier entrances mats too:  
Offices
Supermarkets
Retailers
Hospitals
Schools, Colleges and Universities
Leisure Centres
Libraries
Types of Barrier Mats Available
Barrier mats are available in a variety of materials and are customisable to fit your exact requirements.
Carpet Pile Barrier Mats –the carpet surface of our best selling barrier mats soak up moisture and collate dirt and dust to prevent its spread. Within the carpet pile options, we offer ribbed mats to give a scraping surface, rubber-backed multi-purpose mats with a thick plush pile, and extra-large entrance mats to give the biggest possible surface area to contain damp and grime.
Absorbent Door & Water Trap Mats – offering excellent water retention, the specially designed water trap mats hold large volumes of water, acting as the perfect barrier for your entrances.
Logo Barrier Mats – barrier entrance mats might be the first thing visitors or guests notice, so why not utilise the real estate of your floor to display your brand or offer a greeting. We offer a free design service, allowing you to preview the finished design before you purchase.
Rubbed Backed Barrier Mats –barrier mats need a study rubber backing to secure the mat in place. This helps to prevent trip hazards and as rubber is highly durable, you can rest assured the mat will last for years to come.
How to Order a Barrier Mat from Mats Nationwide
The process for ordering a barrier entrance mat is straightforward. If you are thinking of adding a logo, brand or message to a barrier matting order, email the details through to our design team and confirm the quantity, product and size required. We will provide a complimentary visual for your approval to show the finished coir entrance mat.
We have a huge colour palette to choose from for barrier mats and can Pantone colour match if strict brand guidelines need to be adhered to. For a standard barrier entrance mat, simply complete our online enquiry form outlining the custom size you wish to order along with the colour and any additional information or give our sales a team a call.
If you require a barrier entrance door mat urgently, please contact one of our team on 01565 756152 or email sales@matsnationwide.co.uk and we shall endeavour to work with you to meet your businesses target date. We are happy to offer FREE UK delivery and have international delivery available for those looking to purchase barrier mats from overseas.
What our customers say
Kawasaki Motors UK always seeks suppliers and business partners that offer quality competitive pricing, efficiency and excellent customer service. Mats Nationwide promised all of this and we've never been let down
Kawasaki Motors UK
Extremely happy with the service. Wonderful mat, exactly what we were looking for, excellent service, quick delivery!
Fairfax & Favor
Extremely quick turnaround and helpful approach, nothing was ever a problem. Thank you so much.
British Airways
Our personalised mats represent our brand and salon. They are easy to clean and can also be moved anywhere we need.
Toni & Guy
Amazing customer service, pleasure to deal with and nothing we asked was ever too much. Highly recommend!
The Gym Group
Very satisfied with the end product, the service has been excellent and the mat is easy to clean and maintain.
University Of Cumbria
Very satisfied with the end product and the service above all was excellent.
Holiday Inn
The logo mat is great thank you and the service we received from you was excellent.
Lord Alan Sugar - Amsprop Estates Ltd
I have nothing but positive feedback on the service and quality of the branded mats. Always a pleasure working with Mats Nationwide, and we will continue to do so in the future.
Swatch Group
Previous
Next