Bar Runner Mats
In busy pubs and bars, the floor quickly becomes wet and slippery with excess drink falling onto the bar floor. Our bar mats help to prevent accidents in the workplace and improve the working conditions for bar staff. They also help to manage excess liquids, allowing it to collect in the gaps ready to be cleaned at the end of the day.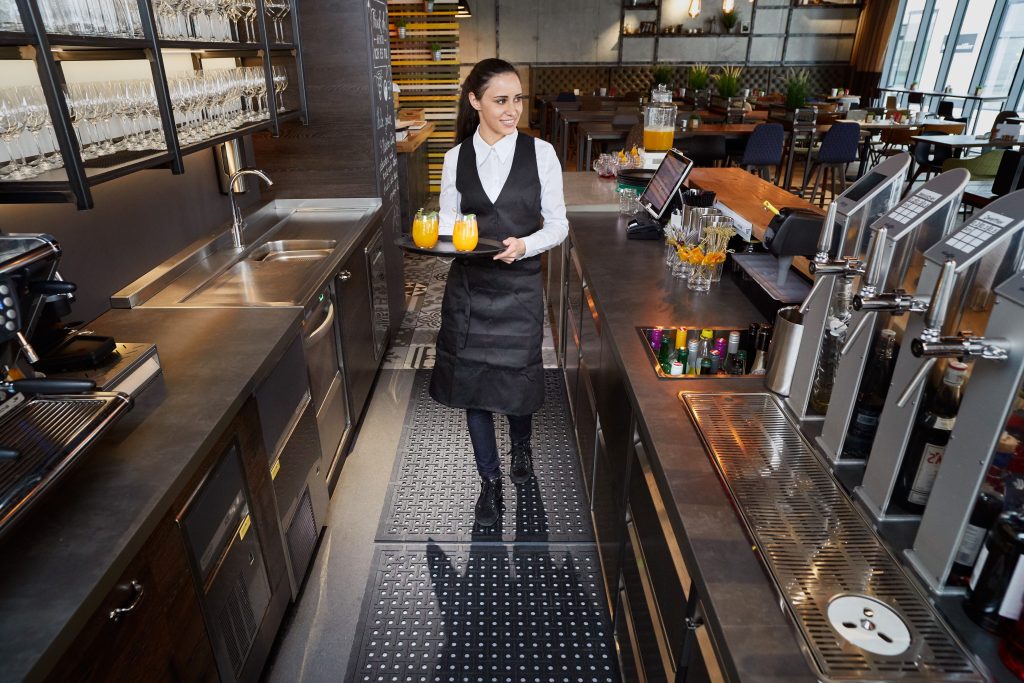 Rubber Bar Mats
Rubber bar mats stand up to the test when it comes to damp conditions, providing a safe space for the staff to work in, without the risk of slipping. Rubber bar mats also double as anti-fatigue mats and giving relief to those standing for long shifts pulling pints and serving drinks. Manufactured from 100% natural rubber our anti-fatigue bar matting also features gradual bevels to prevent tripping.
Mats Specially Designed for Bars
The bar and wet area mat is a robust, durable anti-fatigue mat designed for areas where drainage is necessary and prolonged standing requires relief. With up to 13mm in thickness, bar mats double up as an anti-fatigue mat, offering relief for feet, legs and back, which improves all round productivity.
Our specially designed bar mats are constructed with raised cleats on the top of the mat to provide premium traction. The anti-slip backing reduces mat movement in wet conditions and in the interest of hygiene; the rubber bar mat range is extremely easy to clean. Simply wipe with a damp cloth, sweep, vacuum or hose down. Smaller bar mats can be washed in a commercial washing machine as and when required.
While bar mats are best suited to life behind the bar, they are also suitable for kitchens, water areas, break rooms, machine shops and workstations.
Custom Sized Bar Mats
Mats Nationwide offer custom sized bar mats to fit in with the dimensions of the bar area. Either sat behind the bar on the pump side to make the workplace safer or used in the actual bar area for the benefit of the customer. Order with us and you can pick and choose the exact dimensions of the mat for the bar.
If you require any assistance when choosing a mat for your bar, feel free to reach out and speak to our team.
How to Order Bar Mats from Mats Nationwide
The process for ordering a floor mat for a bar is straightforward. For a standard bar mat, complete our online enquiry form outlining the custom size you wish to order along with the colour and any additional information.
If you require any bar mats urgently, please contact one of our team on 01565 756152 or email sales@matsnationwide.co.uk and we shall endeavour to work with you to meet your businesses target date. We are happy to offer FREE UK delivery and have international delivery available for those looking to purchase bar area floor mats from overseas.
What our customers say
Kawasaki Motors UK always seeks suppliers and business partners that offer quality competitive pricing, efficiency and excellent customer service. Mats Nationwide promised all of this and we've never been let down
Kawasaki Motors UK
Extremely happy with the service. Wonderful mat, exactly what we were looking for, excellent service, quick delivery!
Fairfax & Favor
Extremely quick turnaround and helpful approach, nothing was ever a problem. Thank you so much.
British Airways
Our personalised mats represent our brand and salon. They are easy to clean and can also be moved anywhere we need.
Toni & Guy
Amazing customer service, pleasure to deal with and nothing we asked was ever too much. Highly recommend!
The Gym Group
Very satisfied with the end product, the service has been excellent and the mat is easy to clean and maintain.
University Of Cumbria
Very satisfied with the end product and the service above all was excellent.
Holiday Inn
The logo mat is great thank you and the service we received from you was excellent.
Lord Alan Sugar - Amsprop Estates Ltd
I have nothing but positive feedback on the service and quality of the branded mats. Always a pleasure working with Mats Nationwide, and we will continue to do so in the future.
Swatch Group
Previous
Next