At Mats Nationwide we supply a wide range of industrial and commercial floor mats. From personalised door mats to off-the-shelf standardised mats, we have it all. Through our clever manufacturing process, we can produce door mats that are specifically designed to trap dirt and keep your entranceways looking clean and tidy. Along with this, we can also produce mats in a wide range of colours and patterns, so our door mats can be great advertising and showstopper pieces to draw your customers in. Figuring out which type, and colour, of door mat is right for your business is an important decision that can assist in making the right first impression (Machado, 2015).
Thankfully here at Mats Nationwide, our team of experts are here to guide you in this important decision.
How Do I Choose a Front Door Mat?
Finding the right door mat isn't always easy, with so many options to choose from it can be hard to find the best mat to suit your needs. There are a variety of different styles, colours and materials to choose but we're here to help simplify the process and make it as easy as possible.'
For indoor entrance ways, we offer a large selection of logo mats. These logo mats are available in either printed or coir mat materials. Printed door mats are a type of matting that is designed to protect your floors against high footfall traffic and dirt. As well as being protective, these types of mats also offer you the ability to advertise your company colours or branding at a relatively low cost.
You could also go for a coir logo mat. This is the strongest type of matting option available at Mats Nationwide as it is made from 100% natural coir fibres. This material is best for those offices that are near outside greenery, as these natural fibres will catch any loose muck and grit, meaning that coir front door mats are the best choice if you are looking for a reliable and sturdy front door mat.
For outdoor door mats, we have a range of rubber and brush logo mats that are designed to be both attractive and robust to the elements. This is particularly the case with our rubber logo mat selection. These types of mats are produced with slip-resistant technology, ensuring that any guests are safe and have no risk of falling from the moment they step foot in your building.  As well as being safety conscious, these mats can also be custom-made to be aesthetically pleasing.
Another great type of external front door matting is brush logo mats. This type of matting is a heavy-duty door mat that is ideal for trapping loose dirt. This type of front door mat is popular with many of our clients as it is highly functional, yet very affordable.
So, as you can see, there's a lot to consider before we can even think about the colour of the mat!
Which Colour Door Mat is Best?
As with all advertising efforts, the use of colours and patterns can be vitally important in attracting and drawing customers in (Ciotti, 2014). This also applies to your entrance door mat, which is often the initial signage seen by clients (Braku, 2014). By having a coloured or funky door mat design in your business entranceway, you can be sure to attract, engage and delight any potential customers. This is known to be especially effective in areas like retail and the service sector, whereby certain colours have been shown to influence consumer behaviours. This is backed up by consumer and colour psychology (Wright, 1984).
We understand that choosing the right coloured door mat for your business can seem a little daunting, so the design team at Mats Nationwide have created a Pantone colour matching service to assist you in finding the perfect colour floor mat for your front door entranceway. This service allows you to see what colours will work best for you, by using coloured swatch samples.
Which Colour Door Mat is Good for the Main Door?
This comes back again to our point about colour psychology and its impact on consumer behaviours. This is best shown through the image below, which shows what specific emotions can be created using certain colours for door mats. For instance, the colour red in advertising and symbols can produce feelings of excitement and energy (Parikh, 2011). A great example of this is "red carpet" events, where it is used as a celebratory and joyful colour. This logic shows that red door mats can be a strong choice for organisations to create feelings of joy and pleasure, and a great option for a front door mat.  Another notable colour that is used in marketing is green, as this indicates freshness and quality. For organisations such as health stores or gyms using green door mats can be ideal as it will help show consumers who you are and what you believe in.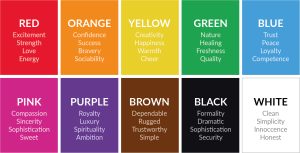 Through continued research and development, the team of engineers at Mats Nationwide have been able to produce an extensive collection of colours that can be dyed into our door mats. From formal black door mats for professional environments, to uplifting and vibrant yellow door mats for businesses such as learning centres, our mats can be designed to whatever colour and brand specifications you may need. By incorporating your brand colouring onto your door mat, you can showcase your brand identity & ethos. If strong emotions are established through the first impression that comes from your business entrance, you can increase the chances of customers becoming loyal to your brand (Verhoef, 2009).
Welcome Mats Designed to your Brand
As well as incorporating your brand colours into your door mats, many of our clients have bespoke door mats made for them. This can instantly showcase that you go the extra mile and address even the smallest details.  Using a well-designed welcome mat can almost create a "shop style window display" portrayal of your business. For instance, if you opt for a colourful and patterned custom door mat, this can showcase to your customers that you are a creative, fun, and exciting company. A well-designed welcome mat can be especially important for smaller businesses, where advertising budgets can be tighter.
Which Type of Door Mats are Best?
This is the holy grail of door mat questions, and it ultimately comes down to what you want your front door mat to do. If you are looking for an attractive, colourful, and engaging door mat, then our range of coir mats is your best choice. Through careful colour selection in coir matting, you can be sure to engage and delight your customers from the get-go. This can potentially lead to increased footfall numbers and even sales (Patterson et al, 2012).
Coloured coir mats can be an ideal investment for front door mats, as they offer fantastic durability and can portray feelings of luxury and exclusivity.
Our range of rubber mats can also be an ideal choice for front door mats. These mats are manufactured to be functional, so they are an ideal choice for ensuring that your business is adhering to health and safety measures. As well as being highly functional, our range of rubber mats can also come in a variety of colours and can even be custom-made. This makes our rubber mats a great choice for many industries due to their reliability in adherence to health and safety laws, but also in their potential to add a touch of flare.
We also offer Mat Well & Recess Mats, otherwise known as sunken door mats. This is another favourite of our clients, as they can make any entranceway look instantly professional. The benefit of choosing this type of floor matting is that it prevents entrance mats from folding at the corners, and the mat always remains secure. For this type of matting, grey or black colours work best as they portray seriousness and sophistication that matches the more polished look of a sunken fitted mat.
Conclusion
As you can see, incorporating specific colours into your front door mat can have a big impact on your business. It can increase the level of brand awareness and visibility of your business. It can also bring your customers a touch of joy and cheerfulness when they initially enter your business if you use bright colours.  At Mats Nationwide, we carry a large selection of coloured and custom door mats online, made from a range of raw materials.  Why not browse our extensive range of door mats, or even learn about how printed floor mats are made?
References
Brakus, 2014. Available at: https://eprints.ncl.ac.uk/file_store/production/211947/0C53B0CC-E580-43BC-923A-C2F387234551.pdf. Accessed 12/7/22.
Hubspot.com, 2022. Available online at: https://www.hubspot.com/inbound-marketing. Accessed 12/7/22
Machado, 2015. Available online at: file:///C:/Users/callum.anderson/Downloads/JPBM-05-2014-0609.pdf. Accessed 12/7/22
Patterson et al, 2012. Available at: https://www.researchgate.net/publication/318224473. Accessed 12/7/22.
Verhoef, P., Lemon, K., Parasuraman, A., Roggeveen, A., Tsiros, M., & Schlesinger, L. (2009). Customer experience creation: Determinants, dynamics and management strategies. Journal of Retailing, 85(1), 31-41