A door mat is a simple thing but is often overlooked in terms of its business potential. It is not only a protective overlay for your doorstep, but it's the initial hallmark and hallway into your business. We all know first impressions are very important, and your door mat should be treated as such. Here at Mats Nationwide, we like to tackle this business opportunity head on by supplying both professional and residential entrance door mats.
We believe that a mat can not only draw customers into your business, but it can help encourage sales too. Throughout this article, we will discuss why purchasing a funky entrance door mat is not only an under-utilised piece of business advertising but also a great way to showcase your brand personality.
Colourful Door Mats
As mentioned above, entrances and door mats are the window into your business, which makes them prime advertising opportunities (just like a classic shop-front window display). Focusing advertising efforts here with a funky outdoor mat can help create a strong first impression that will be sure to impress your customers or clientele. Using vivid or bright colours in your entranceway is a particularly effective way to do this. Recent studies in consumer psychology have shown that certain colours in entranceways can help establish your brand image and tone before a consumer even enters the building (Eprints.ac.uk, 2017). This is the case with the colour red, for example, which was shown to be an indicator of boldness and difference. Having a funky door mat can help set this tone straight away, solidifying your presence and making you stand out from other businesses.
To achieve this strong first impression, we recommend our large selection of printed mats that can be customized to your specific requirements. With a large printed mat, you can ensure that any specific pops of colour in your branding are displayed right at your customer's shoes.
As always, our printed door mat range is completely customisable to you and your organisation. Just let our team know the design, size and length of mat you require, and our experts will design you the perfect floor mat to promote your business, as well as prevent muddy carpets and doors.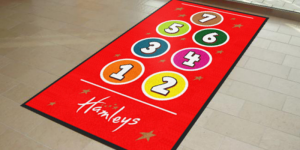 Funky Door Mat Designs
A doormat is not only a mud guard but is also an external advertising source to portray your company's image and ethos. Placing company monograms, logos, or texts on your door mat can ensure that your firm's presence is always displayed.  Doing this can also instantly reinforce brand and customer connections by making your values and personality clear. These efforts in brand continuity will be highly appreciated by both customers and stakeholders; especially by those in the corporate service sector. This can also be a great advertising strategy for businesses operating in the leisure sector, as it shows off your company's fun side.
Showing you have a fun side not only makes your brand feel more personable, but can also help reassure any guests who haven't interacted with you before.  So by having a creative or funny logo door mat design as part of your advertising strategy, you can attract, engage, and delight customers or clientele before they step foot into your business.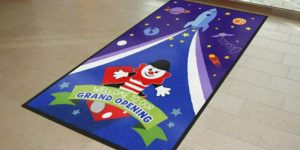 Welcome Mat Designs
Sizing can be another clever advertising trick for many organisations. For example, by opting for a smaller coir front door mat you can create a subtle distinguished look and feel. This is a good option for organisations such as those operating in the corporate realm.  On the other hand, a large patterned coir door mat could be a great way for other businesses to grab attention and stand out.
This is especially true in places such as kids' play centers and indoor venues. Doing this immediately creates a strong first impression and helps strike positive vibes in your visitors and customers. These efforts can ultimately help in creating good public relations and impressions, which can lead to more sales and better customer experiences.
In conclusion
There are several reasons why businesses should consider investing in a quirky door mat, including reinforcing your advertising efforts and grabbing the attention of your consumers. As well as this, funky door mats can also show off your company's fun and relatable side, which can ultimately make you feel more approachable. In being perceived as fun, you can invoke feelings of positivity in consumers which can help in prompting purchasing behaviours.
At Mats Nationwide we carry a large selection of personalised and funky printed door mats that can be manufactured from a range of materials: such as natural coir, rubber, and anti-slip technology mats. All our personalised mats come in a range of sizes and cuts, so just let us know your specifications and we will design your perfect entryway door mat.
Please feel free to browse our extensive range of mats with free UK delivery; or visit us on our contact page if you have any queries about what materials are best for your business's indoor or outdoor funky mat.