It's a new year, a new start and as much as we like to think ahead about the drier brighter months, we are all aware that in the UK the worst of our winter weather usually arrives in January and eagerly hangs on through to April and dare we say it May, where snow has in the past reared its head for one last time.
As a result of rain and snow floors and entrances become wet, tired and dull and as 91% of shoppers select a shop because of its appearance, it's vital to invest in the correct entrance mats and floor equipment not only to ensure you are conforming to health and safety but to create the correct image and appearance for customers, staff and visitors when entering your commercial premises.
Mats Nationwide have prepared the following winter floor tips to consider when addressing your safety measures, to ensure entrances are safe, clean and dry throughout the coming months ahead.
Floor Safety Equipment


Let's start with the exterior of your business premises and look at the various outdoor mats available.
Outdoor rubber scraper, outdoor rubber bristle and outdoor rubber honeycomb mats are popular choices for external use.  These general purpose rubber mats are slip and abrasive resistant, light and colour fast and due to their weight and flexibility, lie securely in place even in the most testing weather conditions. If you require your logo on an external rubber mat, check out our outdoor rubber logo mats.
All the above items effectively scrape and remove heavy dirt, grit and moisture from shoes prior to entering your business.
Outdoor barrier brush mats are the alternative to rubber mats and similar to coir which is a popular indoor floor protector.  The unique looped pile surface texture removes heavy dirt, dust and grit from passing shoes prior to entering your premises.  This product can be manufactured in custom sizes and placed in recessed mat wells if required.
Top Tip: To increase traction and to maximum scraping from the soles of shoes place these mats in a 'runner mat' position.


An absorbent entrance mat is vital for internal use, especially in the winter months to absorb excess moisture that may still remain on shoes.  Most dirt and grit will be removed from effective outdoor matting.
Top Tip: Consider the footfall you have on a daily basis and the size of your reception area to determine the type of mat required.  Spacious entrances with heavy footfall will require larger mats or runners to deal with the traffic and a more heavy duty product with durable rubber border and backing such as multi purpose commercial entrance mats or heavy duty commercial entrance mats.  Smaller receptions with light footfall will still require absorbency but can opt for a smaller mat designed for less footfall such as budget entrance mats or budget ribbed entrance mats.  Absorbent indoor mats are also printed with your company logo on check out printed logo floor mats.
Rock Salt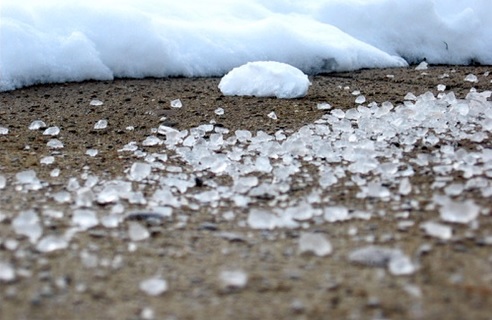 Ensure you are stocked up with bags of rock salt to sprinkle around entrances and paths leading to your premises to provide traction when snow or ice prevails.  Effective entrance mats placed both externally and internally will then remove any excess salt from shoes to protect internal floors.
Top Tip: Do not ever use water to melt snow or ice, it's likely to refreeze and turn into black ice which is hard to spot. Use rock salt as above, alternatively if you are short on this use sand or ash. These won't stop pathways icing over as well but will provide traction underfoot.
Umbrella Holders
Invest in umbrella holders and position at entrances for staff, visitors and employees to use on arrival to your building.
Top Tip: Place at entrances to ensure umbrellas are taken down and put into the holder immediately.  Often if placed by reception desks or out of the way, wet dripping umbrellas are carried through reception areas creating hazardous wet spots and increase the risk of slip.
Winter Floor Signs
Do you have the correct signage available and ready to position at entrances and exits in the event of extreme weather and icy conditions?
Top Tip: Danger Slippery Surface signs are widely available online and can be delivered the next day by most online retailers.
The Mats Nationwide team are here to assist with all your floor care requirements and advise on the most suitable entrance mats for your business and home.  Call us today on 01565 756 152 or email sales@matsnationwide for further information and prices about non slip floor mats for winter and more.