With the busiest days in the shopping calendar upon us, retailers throughout the UK are preparing for the manic Christmas rush.  Shelves are stocked, staff are hired but how many retailers have considered the safety of their floors in preparation for this busy period?  Slips, trips and falls are the leading cause of occupational accidents and result in more than 300,000 disabling injuries each year and most often occur on wet or dirty surfaces.
The flooring material, floor hazards or improper maintenance accounts for approximately 50% of slip-and-fall accidents so these are the key areas that need to be addressed when considering floor safety.

Both hard and carpeted floors pose potential risks if not maintained correctly. The key risk of a tiled or wooden floor is the risk of slip. When moisture is tracked in from outdoors, floors become incredibly dangerous.
Carpets don't pose the same slip risk as a tiled or wooden floor, however, if excess water is tracked in, the carpet will act like a sponge soaking up excess moisture.  With time the carpet becomes damp, begins to smell and fray because of the wear and tear.
A Floor Protection Solution
Entrance Mats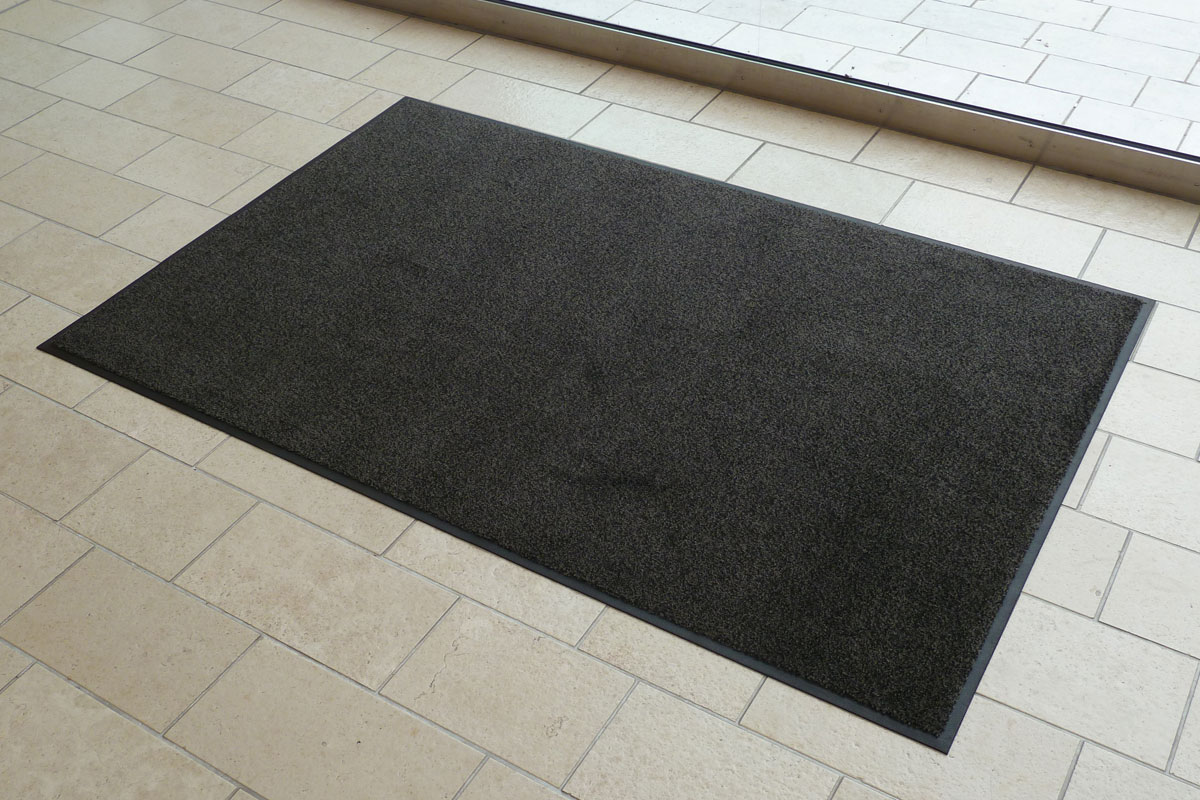 For both carpeted and hard floors, it is vital that protective, absorbent entrance matting is in place at all entrances to absorb excess moisture and trap dirt, dust and grit.  Position mats as close as possible to indoor entrances to reduce the risk of slip.  If an interior entrance mat is positioned correctly, everyone that enters your premises should step directly onto it and walk across it for several steps before walking onto floors.  A popular standard size mat for your average door way is 6ft x4ft or 5ft x 3ft, however, for large entrances 8ft x 3ft or 10ft x 3ft may be more suitable.
Customised Floor Mats
Matting can be customised and made to measure, so if your doorway has a nonstandard width we can simply cut the mat to size.  Not only do commercial entrance mats protect floors, but also brighten entrances and create a warm decorative welcome. Custom Logo Mats are a great way to reinforce corporate identity and brand colours whilst protecting floors.
It is important that mats are maintained over the Christmas period, regular vacuuming, washing and drying of mats is vital. Washable mats can be placed in both domestic or commercial washing machines (depending on size) and are also tumble dry safe, so can be deep cleaned each week.
Regular Floor Mat Cleaning
Entrance mats should always be placed on clean, dry floors to avoid 'creeping'. Any debris under the mats can cause your mat to ripple.  Regular mopping on hard floors should be maintained to ensure any additional spillages can be quickly cleaned. Carpeted floors should be hoovered regularly and any debris and rubbish on floors should be removed immediately to avoid any hazard and potential trip.
Hazard Signage for Slippery Floorspaces
Hazard warning signs should always be on site ready to position over spills or if floors are slightly damp after cleaning.  This ensures you have warned customers and staff about potential slip risks. Why not store additional mats to one side, so that in the event of spillage the mats can be quickly placed around the hazardous area, to allow staff time to clean the area.
For prices and further information on commercial and industrial matting for both indoor and outdoor use contact 01565 756152 or email sales@matsnationwide.co.uk