For large entrances and exits, it's vital that front doormats are ordered in the correct size to provide maximum floor protection.
Large Door Mats from Mats Nationwide
Mats Nationwide recommend using 85cm x 150cm mats at a single door and 115cm x 180cm mats at double doors, however, for maximum protection we would also recommend doubling the size of the indoor matting if you have space.
This will ensure shoes are wiped completely dry before entering inside the building.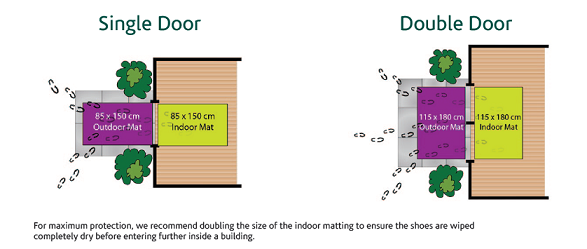 It can take several footfalls to effectively dry shoes and depending on the mat type, size and how much footfall it has to deal with will affect all of this.
If an entrance mat is positioned correctly, everyone that enters the building should step directly onto the large front door mat and walk across it for several paces before stepping onto the floor.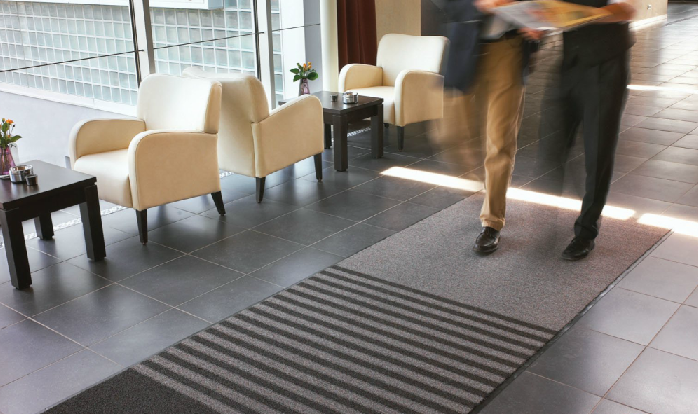 Extra Large Door Mats for Entrances
For extra-large entrance areas, we would advise measuring the full width of the doorway, along with the maximum length that the mat can run into your entrance or exit area.
We manufacture extra large mats up to 550cm in length x 200cm in width, in both plain or logo matting. All of our products are durable, heavy-duty and designed to last. Geared towards commercial and industrial businesses, such as schools, colleges, hotels, bars, restaurants, offices and healthcare trusts.
Extra-large lift and lay doormats are each manufactured with a premium 100% Nitrile EXS Rubber backing and border, this prevents curling and cracking. It also ensures that larger door mats do not 'creep' and remain firmly in place at all times.
Get the Correct Backing for Large Front Door Mats
We also tailor the rubber backing of the mat to the floor type that it will be placed on. For instance, gripper rubber backing is applied to matting that is placed on carpeted floors and smooth, flat rubber backing is used for hard tiled floors. The unique backing will effectively anchor the product to the floor.
For all recessed mat well products (such as coir and brush matting) we apply a heavy-duty, dimensional stable backing to ensure a secure and streamlined fit when the mat is installed in the recessed area and to reduce any rippling effect that can often occur with large mats.
Large door mats are expensive, so if you are willing to make an investment to protect the flooring in your property, make sure you choose an expert supplier. Mats Nationwide have been supplying organisations for over thirty years and so we will be happy to help you find the perfect large front door mat or extra large door mat.
Contact one of our team on 01565 756152 or email sales@matsnationwide.co.uk for a fast free quotation.