Outdoor Entrance Mats
Find the perfect outdoor entrance mat in our wide range of high-quality outdoor rubber mats, which protect floors in all types of weather. Our outdoor entrance mats are resilient in snow, rain, and damp weather, and are resistant to fading in the hot summer sun. An outdoor door mat will provide a partition between the outside world and a commercial building, preventing muck, dirt, and grime from entering your business's property.
Read More
Mats Nationwide also supply custom branded outdoor door matting too. Create a lasting, professional first impression at your premises with a personalised outdoor mat.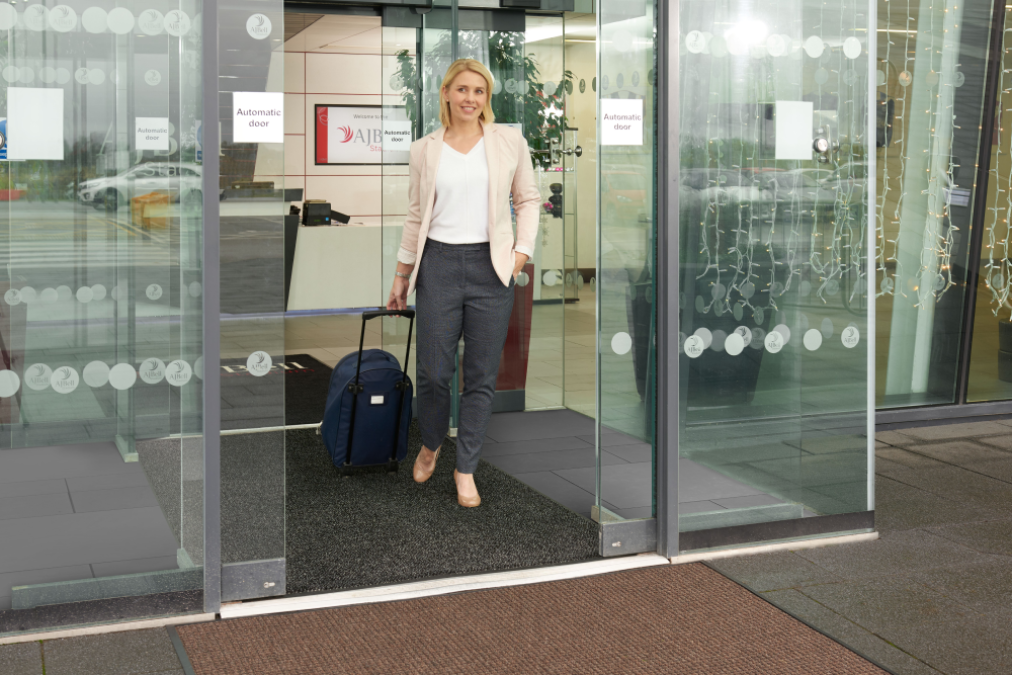 We stock a variety of outdoor mats suitable for outside entrances, including rubber scraper mats, bristle mats, and custom rubber logo mats for those looking to welcome visitors or display their branding. Outdoor entrance mats come in a variety of sizes and are made with non-slip premium nitrile rubber backing so that they will remain in position despite moisture and heavy traffic.
Outdoor Door Mat Features
Made with Premium Rubber– outdoor rubber entrance mats are made from nitrile or heavy natural rubber to ensure the mat is non-slip even in wet or damp conditions. Weather-resistant and hard-wearing, the rubber will resist cracking and curling, lasting throughout the seasons to protect your entrances.
Stop Dirt & Dust at the Entrance – outdoor entrance mats play the important role of stopping dirt, dust, muck and grime at the door. Keep cleaning costs down and protect indoor doormats and internal floors with outdoor scraper mats deployed at busy entrances.
Accessible Entrances – our outdoor mat range offers options to schools, hospitals, retailers, places of worship, and offices who need to make sure wheelchairs and pushchairs can access their property with ease. An outdoor mat purchased from us will feature bevelled edges to accommodate this, and rubber mats are durable enough to handle the strain of any load entering a commercial property.
Help Drain Away Excess Water –honeycomb, bristle and scraper rubber entrance outdoor mats are suitable for use outside as they not only help visitors wipe off moisture from their shoes in wet conditions, but water can run off allowing the mat to continue to perform.
Choosing an Outdoor Mat
Outdoor rubber mats are available in a range of styles, colours and sizes, with custom logo or branding options available. As the first thing people see when approaching a building from the outside, choosing the right outdoor entrance mat is very important to give the best impression possible.
Custom branding of an outdoor door mat will enhance the overall look of any premises, leaving a positive first impression of a business. Rubber makes a great entrance mat material, providing both protection for your flooring and easy cleaning, and will fit the exact size for your entrance. Many of our clients customise their outdoor entrance mats to welcome visitors to their commercial or business property.
Heavy-duty rubber entrance mats are incredibly hard-wearing, long-lasting, washable, and practical for any commercial outdoor entrance or entryway where there is heavy footfall, such as in schools or retail outlets.
Outdoor mats combined with absorbent indoor door mats act as a dual matting system, ensuring optimum performance at all times. For example, an anti-slip rubber door mat for outdoor use can help prevent excess moisture and dirt from reaching any indoor mat and carpet flooring. Utilising the right mat indoors and outdoors will help keep your business premises clean and tidy, while also promoting your company's brand. A truly multi-purpose product!
Maintain & Clean Your Outdoor Entrance Mat
Outdoor door mats are washable, easy to clean and keep tidy. Simply lift them and sweep the debris collected underneath and if need be, hose down the mat and let it dry out naturally. A pressure washer can be used for a deeper clean.
Trusted Outdoor Mat Supplier of Over 30 Years
We are the trusted outdoor mat and entrance matting supplier to many blue-chip businesses, and we supply our products to retailers, shops, hotels, restaurants, schools, pubs, bars, offices, and hospitals. Our outdoor entrance mats are used UK wide, so check out our reviews to see for yourself.
We also have FREE UK delivery and can deliver internationally.
Our team pride ourselves on competitive pricing, level of customer service, quality of product and fast, efficient, turnaround of products.
Interested in an outdoor mat with free delivery? For enquiries and expert advice contact our team on 01565756152 or email sales@matsnationwide or via our Live Chat service.
What our customers say
Kawasaki Motors UK always seeks suppliers and business partners that offer quality competitive pricing, efficiency and excellent customer service. Mats Nationwide promised all of this and we've never been let down
Kawasaki Motors UK
Extremely happy with the service. Wonderful mat, exactly what we were looking for, excellent service, quick delivery!
Fairfax & Favor
Extremely quick turnaround and helpful approach, nothing was ever a problem. Thank you so much.
British Airways
Our personalised mats represent our brand and salon. They are easy to clean and can also be moved anywhere we need.
Toni & Guy
Amazing customer service, pleasure to deal with and nothing we asked was ever too much. Highly recommend!
The Gym Group
Very satisfied with the end product, the service has been excellent and the mat is easy to clean and maintain.
University Of Cumbria
Very satisfied with the end product and the service above all was excellent.
Holiday Inn
The logo mat is great thank you and the service we received from you was excellent.
Lord Alan Sugar - Amsprop Estates Ltd
I have nothing but positive feedback on the service and quality of the branded mats. Always a pleasure working with Mats Nationwide, and we will continue to do so in the future.
Swatch Group
Previous
Next