Industrial Mats
Our industrial floor mat product range includes anti-fatigue matting and slip-resistant mats to suit a wide variety of budgets and needs. Mats Nationwide are a market leader in industrial and workplace matting, offering a wide range of commercial matting for a variety of workplace environments, ranging from industrial to catering, hospitality and retail. Our mats help to improve health and safety for employees and protect the floor spaces in the property. Enhance the working environment for staff with the installation of anti-fatigue and anti-slip matting.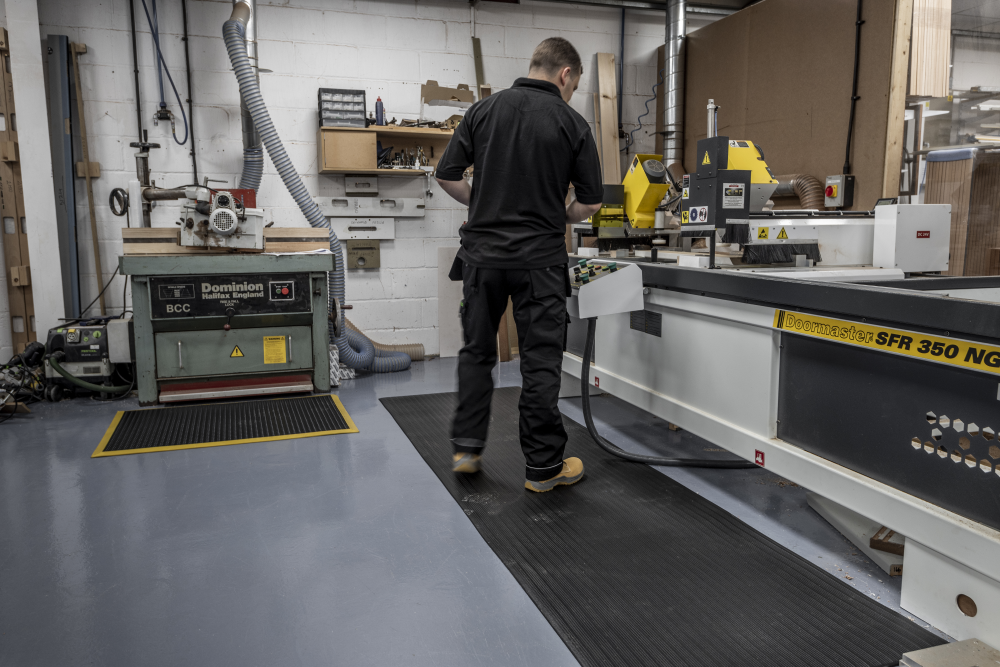 What Are Industrial Floor Mats?
Industrial floor mats are any type of matting used primarily in an industrial environment. This includes workshops, factories, warehouses, assembly lines and welding bays. Industrial matting is generally made from Rubber, PVC or other hard-wearing materials to cope with the often-difficult conditions they must endure.
We stock a range of industrial floor mats adapted for the workplace with features such as anti-fatigue construction, puncture-resistance, bevelled edges and non-slip surfaces.
Industrial Floor Mats in the Workplace
If you are in the market for industrial floor mats, you will be able to find a suitable product in our commercial range. We supply, to name a few:
There is no limit to where our industrial floor mats can be used and we help clients find a matting solution for workshops, factories, warehouses, assembly lines, welding bays, kitchens and more. We supply industrial rubber mats that can stand up to the rigours of the workplace, whether that is in a bar, kitchen or garage, so if you require commercial matting then check out our range of options listed below.
Industrial Door Mats
Industrial doormats are another area where we excel as we have competitive pricing for outdoor and indoor scraper mats as well as heavy-duty water absorbers and dirt trappers. Printed logo industrial doormats are available for you to order to display your brand and leave a lasting first impression on your customers and visitors.
Industrial doormats serve a number of purposes, from simply providing protection from muck and dirt at the entrance of an office or workspace to ensuring employers look after the welfare of their staff with absorbent industrial entrance mats to reduce slip hazards.
Improve the Workplace With Industrial Mats
Industrial matting will lead to a more productive and positive workplace. Many of our industrial mats improve the working conditions for staff and increase the safety of employees. With COVID-19, industrial clients have even turned to our social distancing mats to encourage best practice in the workplace.
However, most of the industrial mats are primarily designed to improve comfort and reduce the risk for workers.
Reduced the risk of slips and trips
Improved underfoot conditions for workers
Ensure floors are cleaner
Improve the look and feel of the workplace
Industrial floor mats are a wise investment. Not only do our products come with a guarantee for performance, but they demonstrate to employees that you have their safety and welfare at the forefront of your mind. Reduce absence and prevent accidents with safety mats, anti-slip mats and anti fatigue mats and take care of your workforce with the implementation of industrial floor mats.
How to Order Industrial Floor Mats from Mats Nationwide
The process for ordering any of our industrial mats is straightforward. If you are thinking of adding a logo, brand or message to the industrial doormat, email the details through to our design team and confirm the quantity, product and size required. We will provide a complimentary visual for your approval to show the finished doormat.
We have a huge colour palette to choose from for our industrial doormats and can Pantone colour match if strict brand guidelines need to be adhered to.
For a standard safety or industrial mat, simply complete our online enquiry form outlining the custom size you wish to order along with the colour and any additional information or give our sales a team a call.
If you require industrial floor mats and are in a hurry to get them delivered, please contact one of our team on 01565 756152 or email sales@matsnationwide.co.uk and we shall endeavour to work with you to meet your businesses target date. We are happy to offer FREE UK delivery and have international delivery available for those looking to purchase industrial floor mats from overseas.
What our customers say
Kawasaki Motors UK always seeks suppliers and business partners that offer quality competitive pricing, efficiency and excellent customer service. Mats Nationwide promised all of this and we've never been let down
Kawasaki Motors UK
Extremely happy with the service. Wonderful mat, exactly what we were looking for, excellent service, quick delivery!
Fairfax & Favor
Extremely quick turnaround and helpful approach, nothing was ever a problem. Thank you so much.
British Airways
Our personalised mats represent our brand and salon. They are easy to clean and can also be moved anywhere we need.
Toni & Guy
Amazing customer service, pleasure to deal with and nothing we asked was ever too much. Highly recommend!
The Gym Group
Very satisfied with the end product, the service has been excellent and the mat is easy to clean and maintain.
University Of Cumbria
Very satisfied with the end product and the service above all was excellent.
Holiday Inn
The logo mat is great thank you and the service we received from you was excellent.
Lord Alan Sugar - Amsprop Estates Ltd
I have nothing but positive feedback on the service and quality of the branded mats. Always a pleasure working with Mats Nationwide, and we will continue to do so in the future.
Swatch Group
Previous
Next