Logo Mats
Mats Nationwide are the UK's leading supplier of quality, heavy duty, logo mats for both commercial and industrial business use. Our custom door mat range includes indoor and outdoor logo mats that are made to your exact requirements including size, business design and colour choice. We offer free artwork visuals created prior to ordering too.
Read More
Printed door mats allow customers to create a warm welcome at their property to greet visitors and staff with a logo or message, while a personalised doormat is also a fantastic choice for schools.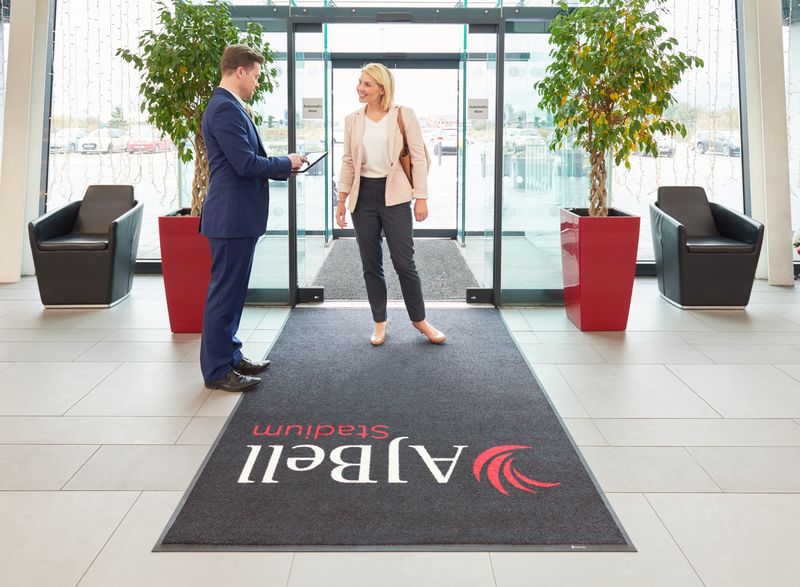 Personalised Doormats & Entrance Mats with a Logo
Logo mats are a great way to create a high impact on arrival to your entrance area, whilst providing optimum floor protection. Choose from coir logo mats, outdoor scraper or brush logo matting.
Floor space provides huge marketing potential for businesses (an area that is often unused). The ideal way to utilise this space is with branded barrier mats, an investment to any business.
Printed Door Mats To Protect Floors
Not only will a printed doormat help promote brand identity, reinforce corporate colours and create a powerful welcome on arrival to your business, but will also act as a dirt trapper and protect floors from the damaging effects of tough dirt, dust, grit and moisture that is tracked in daily.
Get in touch today about your custom door mat and get free design to help you visualise your new personalised doormat.
Custom Door Mats
Each of our branded custom door mats can be made to measure to your custom size and supplied in various shapes, such as circular/round, rectangular or square. All custom floor mats are non-slip and can be loose laid on your floor surface or sunken into a recessed mat well. Our products also vary in depth, so if you require a particularly thin or thick mat to fit under a specific door depth, contact us for advice on the most suitable product. For large or extra-large sizes, please get in touch with one of the team who can direct you to the most suitable custom door mat option.
Mats Nationwide now stock social distancing mats, allowing customers to create customised floor mats to help advise customers or visitors on social distancing while in your premises.
Commercial Logo Mats For Your Premises
Our custom logo and branded mats are ideal for receptions, entrances, hallways, foyers, and exits throughout commercial and industrial buildings such as:
Schools
Colleges
Offices
Hospitals
Retail shops
Bars & Restaurants
Hotels
Leisure & Tourist attractions 
There is no minimum order quantity when ordering any of our logo products and we provide free colour visuals and UK delivery on all orders. Prices are cost effective, competitive and we can always provide the best custom logo matting solutions to suit your budget. Choose from washable to maintenance-free matting, the choice is endless!
How to Order a Logo Mat from Mats Nationwide
The process for ordering a logo mat is straightforward. We simply ask you to email your business logo through, confirming the quantity, product and size required. One of our in house designers will then create your complementary visual which will be emailed to you for approval.  This design will show you how the finished logo mat shall look, outlining the size, orientation and colours used. The visual can be amended free of charge until you are completely satisfied with the personalised doormat.
We have a huge colour palette to choose from and can also pantone colour match if strict brand guidelines need to be adhered to.
Delivery times vary for each logo mat product.
Printed logo mats – Delivery 5 business days from approving design.
Coir and outdoor brush logo matting – Delivery 6 business days from approving design.
Outdoor scraper logo door mats – Delivery 7 business days from approving design.
If you require your logo mat or personalised doormat by a particular deadline, please contact one of our team on 01565 756152 or email sales@matsnationwide.co.uk and we shall endeavour to work with you to meet your businesses target date. Call today to discuss your custom door mat.
What our customers say
Kawasaki Motors UK always seeks suppliers and business partners that offer quality competitive pricing, efficiency and excellent customer service. Mats Nationwide promised all of this and we've never been let down
Kawasaki Motors UK
Extremely happy with the service. Wonderful mat, exactly what we were looking for, excellent service, quick delivery!
Fairfax & Favor
Extremely quick turnaround and helpful approach, nothing was ever a problem. Thank you so much.
British Airways
Our personalised mats represent our brand and salon. They are easy to clean and can also be moved anywhere we need.
Toni & Guy
Amazing customer service, pleasure to deal with and nothing we asked was ever too much. Highly recommend!
The Gym Group
Very satisfied with the end product, the service has been excellent and the mat is easy to clean and maintain.
University Of Cumbria
Very satisfied with the end product and the service above all was excellent.
Holiday Inn
The logo mat is great thank you and the service we received from you was excellent.
Lord Alan Sugar - Amsprop Estates Ltd
I have nothing but positive feedback on the service and quality of the branded mats. Always a pleasure working with Mats Nationwide, and we will continue to do so in the future.
Swatch Group
Previous
Next