Playground Mats
Playground mats are suitable to use in almost any outdoor location where children might play. Schools, nurseries, pubs with play areas, kids clubs, hotels, leisure centres or just about anywhere can benefit from outdoor rubber play mats. Improving safety for children is important, allowing them to play without risk, so why not check out our rubber mats for play areas and enhance your facilities for kids.
Playground Mats for Education
Non slip playground flooring is suitable for outdoor play areas at nursery, school, kids clubs and more. Whatever the weather, rubber is the perfect material for playground matting as it non slip in wet conditions, but even in the heat, it won't crack or fold.
With a range of colours available, at Mats Nationwide we are confident that you will find the perfect outdoor playground mats.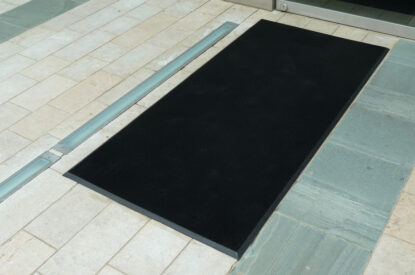 Outdoor Rubber Bristle Mats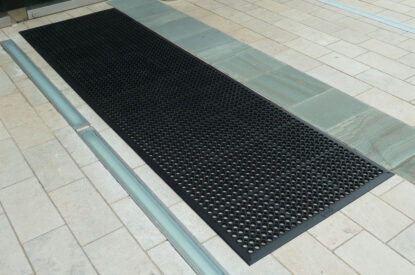 Outdoor Rubber Honeycomb Mats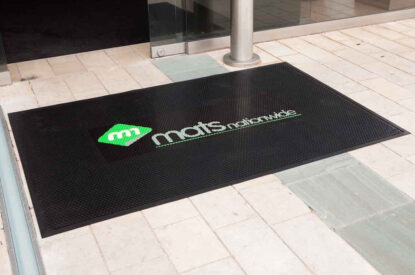 Outdoor Rubber Logo Mats
Benefits of Outdoor Rubber Playground Mats
Playground safety mats can be used indoors or out to help give more protection in any play area. Each mat is manufactured using quality rubber to last for years to come and in any weather and provide anti slip qualities even in wet conditions.
Rubber mats are easy to keep clean, and as they are loose lay, the mats can be removed and pressure washed to keep them looking fresh and to help them perform better. Rubber mats for play areas can be used near children's swings, climbing frames, play towers or even basketball or ball games areas.
If you want to increase safety in hard floor areas, why not reach out for more details about our outdoor play mats.
Outdoor Rubber Play Mat Features
Custom sizes available
Easy to clean
Durable and hard wearing
Non slip backing
Weather resistant
Different colours available
Mats Nationwide 12 month guarantee
Oil resistant
Types of Play Area Matting
Children's play areas should be made as safe as possible with installation of rubber mats to cushion any falls. Honeycomb rubber matting is available from Mats Nationwide to those customers with the aim of making children's playgrounds safer.
Our rubber playground mats have open holes for drainage and to allow grass to continue grow through the gaps where required and there are custom sizes available to cover larger areas. Our rubber matting is super comfortable for kids and adults underfoot, making playtime more fun for all!
How to Order Playground Mats from Mats Nationwide
The process for ordering any playground mats is straightforward. For a standard mat, simply complete our online enquiry form outlining the custom size you wish to order along with the colour and any additional information or give our sales a team a call.
If you require any of our playground mat range urgently, please contact one of our team on 01565 756152 or email sales@matsnationwide.co.uk and we shall endeavour to work with you to meet your businesses target date. We are happy to offer FREE UK delivery and have international delivery available for those looking to purchase outdoor play mats from overseas.
What our customers say
Kawasaki Motors UK always seeks suppliers and business partners that offer quality competitive pricing, efficiency and excellent customer service. Mats Nationwide promised all of this and we've never been let down
Kawasaki Motors UK
Extremely happy with the service. Wonderful mat, exactly what we were looking for, excellent service, quick delivery!
Fairfax & Favor
Extremely quick turnaround and helpful approach, nothing was ever a problem. Thank you so much.
British Airways
Our personalised mats represent our brand and salon. They are easy to clean and can also be moved anywhere we need.
Toni & Guy
Amazing customer service, pleasure to deal with and nothing we asked was ever too much. Highly recommend!
The Gym Group
Very satisfied with the end product, the service has been excellent and the mat is easy to clean and maintain.
University Of Cumbria
Very satisfied with the end product and the service above all was excellent.
Holiday Inn
The logo mat is great thank you and the service we received from you was excellent.
Lord Alan Sugar - Amsprop Estates Ltd
I have nothing but positive feedback on the service and quality of the branded mats. Always a pleasure working with Mats Nationwide, and we will continue to do so in the future.
Swatch Group
Previous
Next