Without a doubt, the two best-selling mats for hairdressers are absorbent logo mats & anti-fatigue mats. Ensure employees are protected while standing on their feet all day, and at the same time, reinforce your branding and add a splash of colour to your salon or barbershop.
Logo Mats For Hairdressers & Barbers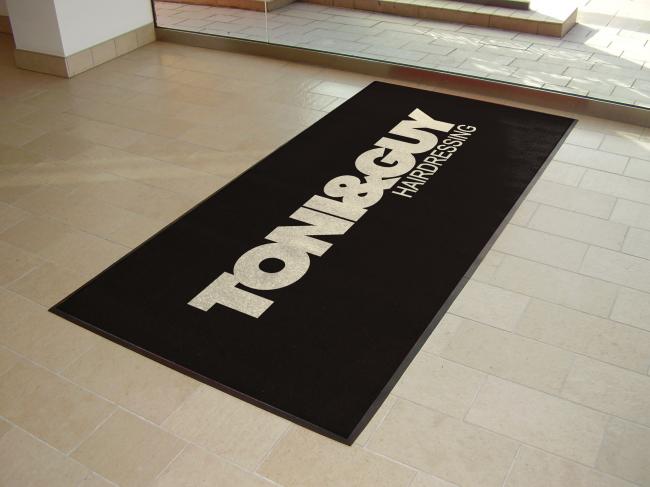 Printed Logo Mats are a great product that not only reinforces brand identity but also protects floors and creates an impact on arrival to your salon. Logo mats are super absorbent, fully washable and trap 95% of tracked in dirt, dust, grit and moisture in its tracks, ensuring floors remain clean, safe and dry, reducing the risk of slips and trips.
Most hairdressers opt for hard floors for salon flooring, such a tiled or wooden floor which of course is paramount for cleanliness and easy cleaning. However, this type of flooring can soon become hazardous, when you combine water and product spillage (such as hairsprays, oils and creams).
Logo mats placed throughout your hairdressing salon will absorb any unwanted spillages and provide safe footing for staff and customers as they walk from the washing area back to their seat. What's great is the printed mat is manufactured in your salon's colours, so instantly blends and complements interiors.
The mat is also fully washable, so easy to keep clean and maintain, removing excess hair, moisture and product build-up. You can either pressure wash the mats yourself, alternatively, they can be washed in an industrial washing machine for that extra 'deep clean'.  Daily vacuuming will also freshen and revive your mats as part of your daily cleaning regime.
Salon & Hairdressing Anti Fatigue Mats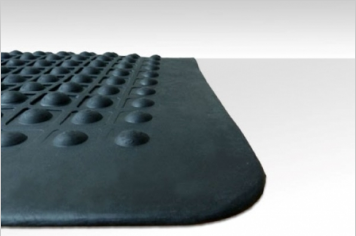 Washing hair is a huge part of every hairdresser's day, however, standing on hard floors for long periods of time and standing upright can often cause leg ache, backache and as a result decrease productivity.
Salon Anti Fatigue Mats should be placed behind each washer to help fight against leg, foot and back fatigue. What is more, the mat provides a secure, nonslip standing position and protects users against unhealthy cold from the floor.
Anti-fatigue floor mats are designed to reduce stress exerted on muscles and joints providing welcome relief and increased productivity for employees.
Manufactured from 100% premium nitrile rubber, this mat is oil and grease resistant plus fully washable, so again easy to keep clean and maintain on a regular basis.
How to Purchase Barber Floormats & Hair Dressing Mats
At Mats Nationwide, we are here to help you improve flooring in salons throughout the UK and overseas too. We have competitive pricing on all of our anti-fatigue and logo matting to help keep costs down but to protect your staff and flooring.
Our mats are suitable for entrances, throughout the salon or barbershop, to help highlight your brand and give a welcoming feel to all of your customers. We also now stock social distancing matting for those hairdressers looking to comply with the latest measures.
For standard anti-fatigue mats for hairdressing just chose the most suitable product and size and then checkout. For logo mats, follow our instructions to get a free preview of what the mat will look like in your shop, and once you are satisfied place an order.
For prices, products and dispatch times on the above products call us on 01565 756 152 or email sales@matsnationwide.co.uk