What Comes to Mind When You Think of Your Commercial Floors?
Carpeted, tiled, wooden or perhaps wet, dusty and pretty unappealing? Let's face it floor space can often be quite dull but it shouldn't.
Entrances are the first thing customers, visitors and employees see when they enter your premises and with 91% of shoppers selecting a store to shop in because of its appearance (Progressive Grocer), it's vital you welcome people in a positive way and ensure floors are safe, clean dry at all times.
So why not put your floor space to better marketing use and greet visitors with a mat oozing brand identity and corporate colours.
Logo Mats are the perfect way to do this.  Not only do they create the ultimate wow factor on arrival to your business, but they also act as a floor protector.
What's even better is that all products within this range are heavy-duty dirt trapper mats that act as a barrier to the external elements.  Designed to grab tough dirt, dust, grit and moisture from passing shoes these products are essential to ensure indoor entry areas and exits are safe at all times.
The Perfect Welcome Mat
Logo Entrance Mats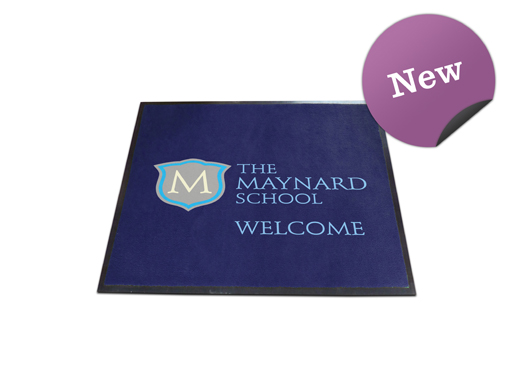 Each of our Logo Entrance Mats is personalised to your exact requirements and is available in a range of standard sizes.  Our most popular sizes are 5 x 3 (85cm x 150cm) 6 x 4 (115cm x 180cm) 10 x 3 (85cm x 300cm).  The latter is a bestselling runner and is ideal for narrow areas or hallways.  We also offer a custom made to measure service, manufacturing to the exact dimensions, size and shape required, such as round or semi-circle (half-moon shape as many like to call it!)
How Do I Order a Custom Logo Mat?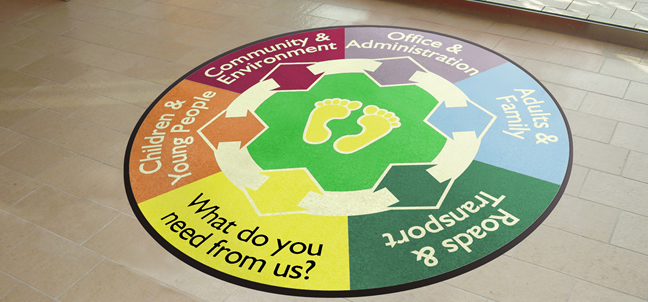 Example of a round or circular logo entrance mat Mats Nationwide supplied recently to a local council.
The process is extremely straightforward. Simply get in touch for prices by calling 01565 756 152 or email sales@matsnationwide.co.uk. You can also fill in one of the quick enquiry forms on any of the custom pages.
We then create a free visual showing you how your logo doormat will look.  The visual details the colours used and the layout of your emblem, picture, text or design so you can visualise how the finished product shall look.  There is no charge for any of the artwork and no obligation to order.  We can also tweak the design until you are completely happy with it, again at no extra charge.  Once you have approved the visual we then order and the mat goes into production with delivery in just 5 working days!
Free artwork is emailed to you for your approval prior to ordering.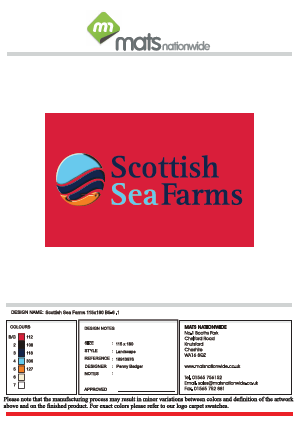 What Are the Turnaround and Delivery Times for Your Floor Mats?
Printed logo floor mats are now delivered in just 5 working days from placing your order! Coir Logo Mats and outdoor brush is 10 and our outdoor scraper is around 21-28 days.  However, if you need any of our products earlier please do contact us as we will always do our best to meet your deadline.
Free UK delivery & international delivery is also available.