It's almost spooky season, and that means pumpkins, ghosts, ghouls, and Halloween home décor! Halloween is rapidly approaching, and the weather is also turning as we head into autumn. Getting the right mat for the season is a good way to ensure your doorways and entrance halls stay free of dirt and moisture. Seasonal mats are also a great way to decorate for the holidays!
Halloween Doormat Ideas
If you are looking to decorate your doorways for Halloween, then don't forget to add a treat for any visitors or clients in the form of a fun Halloween doormat!
Or if you perhaps want a more subtle (but still seasonal) entrance, then an aesthetic autumn doormat could be perfect for you.
If you're stuck for ideas, here is some colour inspiration.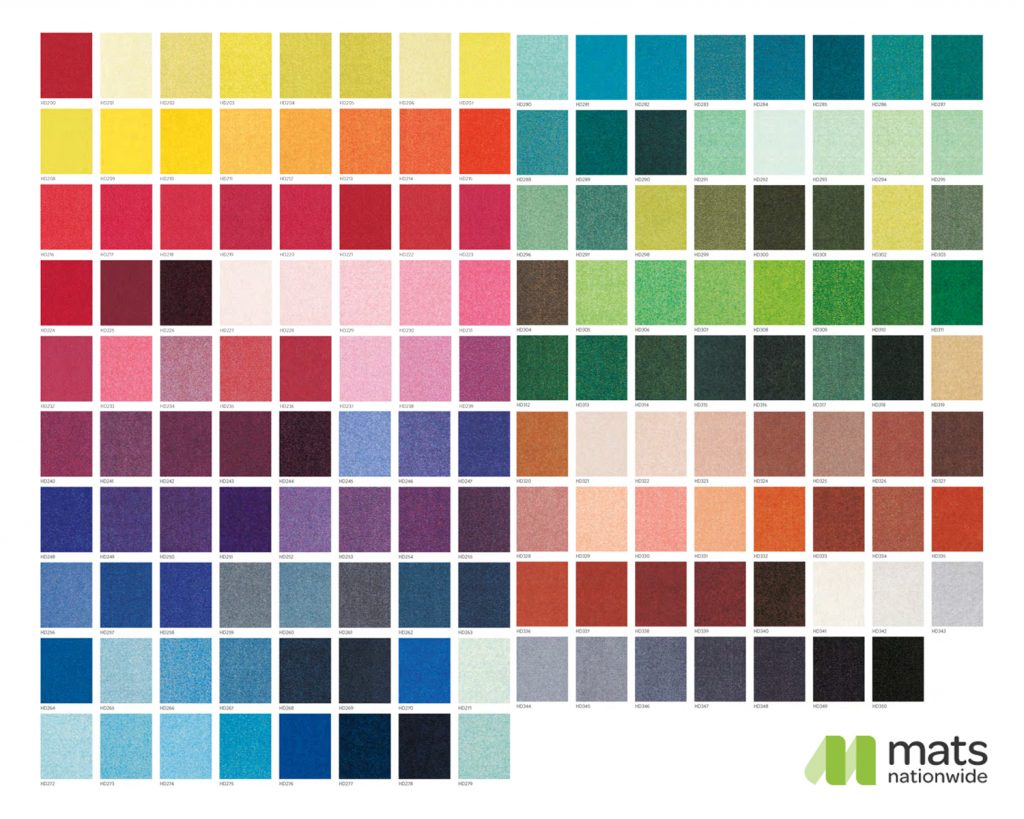 Printed Logo Mats
A brightly coloured printed logo mat can be a great eye catching way to improve your business entryway while keeping your flooring clean and free from dirt. In the autumn, these mats stand out and can absorb moisture and prevent puddles from people bringing in the cold and wet weather.
If you are looking to brighten up your floor space during autumn and Halloween, then a printed logo mat is a good option.
For Halloween, why not switch up your logo to a Halloween themed design for your mat? Or alternatively, you can get an indoor logo mat in a spooky themed design, such as a pumpkin or ghost to use when the seasons change.
If you prefer a simpler approach, you can always get a custom colour mat in a Halloween shade, such as orange or green.
Coir Logo Mats
Another good option for a seasonal mat is a coir mat. These mats are made from natural coconut fibres, which are very hard wearing and absorbent – perfect for trapping dirt, grit, and dust.
As well as being naturally made, coir mats are an affordable option and are low maintenance. You can set a coir mat into a mat well or recess if you have one. You can also go for a rubber-backed coir mat to fit in any space.
Coir logo mats make great entrance mats as they can feature a company or organisation name, logo, branding, or a welcome message. As well as adding a logo to a coir mat, customers are able to order made-to-measure coir mats in any shape, and in a range of colours.
Add some seasonal shades to your entranceway by opting for a coir mat in red, orange, or russet colours.
What Are the Benefits of Seasonal Matting?
Having a seasonal mat for your business isn't just for show. A well-made, high quality door mat is perfect for protecting your floors during the colder season, and helps attract attention to your business. Having a seasonal mat that you use during the autumn months can extend the life of your regular mats if you choose to swap them out for something more seasonal. With a custom mat you can make sure your seasonal mat stays on-brand while adding a fun new element to your décor that will get people talking!
Conclusion
You may be asking yourself, 'Do I really need a doormat?' or 'Is a custom mat really worth it?'.
With the rainy autumn weather fast approaching, it is more important than ever to invest in a doormat that will help protect you, your visitors and your floors from the slippery, muddy weather that is almost constant once October starts.
With a doormat being such an essential accessory as the rainy days increase, why not make a spectacle out of them? By customising your entranceway with a bespoke, seasonal (and perhaps spooky) doormat, you can draw people's attention and create a conversation starter that could set your business apart.
There are a variety of materials, colours and designs that you could explore, so get ready for the spooky season and beyond with a custom doormat from Mats Nationwide that will keep people talking. Contact us for your perfect mat today.