Indoor Door Mats
Indoor doormats provide a barrier from the outside world at the entrance of your premises whether that is a shop, showroom, school, hospital or even your home. At Mats Nationwide, we stock a variety of indoor mats suitable for front door areas including absorbent water trappers, ribbed indoor entrance mats as well as custom logo mats for those looking to welcome visitors or display their branding.
Read More
Indoor doormats come in a variety of sizes and vary in price, making them suitable for those working to a budget that requires an enduring indoor entrance mat.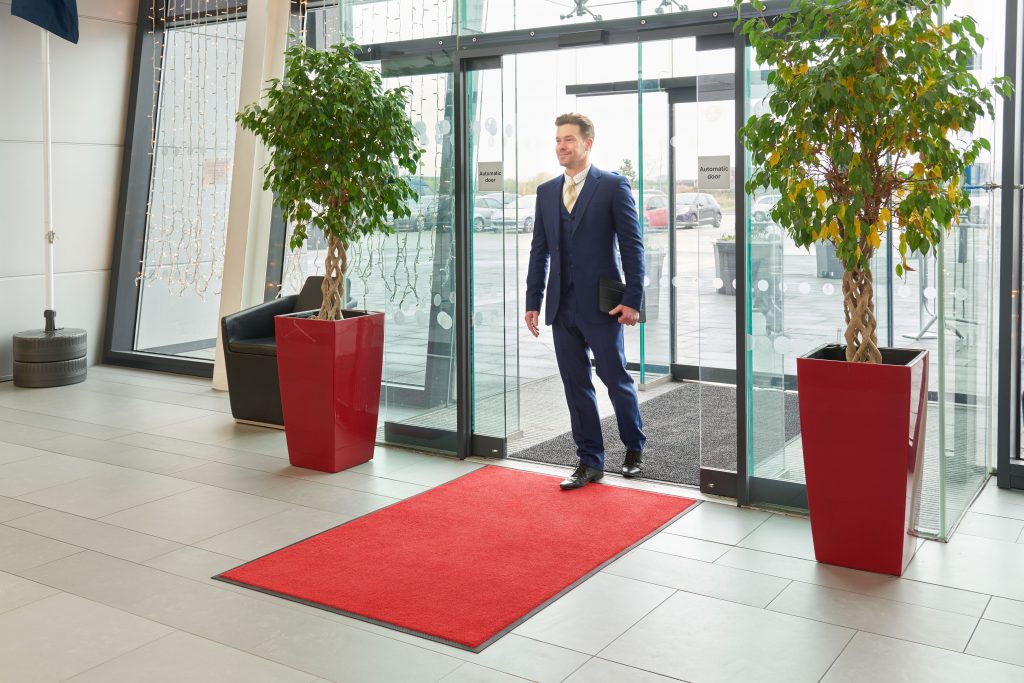 In recent times, indoor door mats have been used to remind visitors or staff to follow social distancing rules since the outbreak of COVID-19. Other examples have been indoor mats with messaging on to encourage hand washing or to follow a certain route around the building. Custom indoor floor mats and logo mats are available with free design visuals before you order, to allow you to view how clear your instructions are regarding health, safety and social distancing.
Indoor Door Mats For Entrances
Our indoor doormat range helps to reduce the volume of dust, dirt and damp brought into a building. Indoor floor mats at the entry points of a building control the risk of employees or visitors slipping by providing them with somewhere to wipe off their feet, which also reduces the amount of cleaning and upkeep for your maintenance team. Ensure floors are safe to walk on and protect carpets and interiors, while at the same time keep your entrance clean and tidy with the addition of large door mats or an indoor door matting system.
Choosing Indoor Mats for Commercial Spaces
Indoor doormats are available in a range of styles, colours and sizes, with custom options available. As the first thing people see when entering a doorway, choosing the right indoor entrance mat is very important to give the best impression possible.
Custom branding of indoor mats is often overlooked but is vitally important to help with the overall look of any premises if it is a business. Coir logo matting makes a great entrance mat, providing protection for your flooring, adaptable as it can be cut to the correct size for your entrance, whilst also being customisable so that you welcome customers or visitors into your property.
Other customers prefer heavy duty commercial matting as it is absorbent hard wearing and practical for indoor entrances with large footfall such as in schools or retail outlets.
When indoor entrance mats are used in conjunction with effective outdoor entrance mats, together they act as a dual matting system, ensuring optimum mat performance at all times keeping your business clean and tidy.
Bespoke Indoor Door Mat Solutions
All of our indoor doormats are made from the highest quality materials perfect for use at home or in a commercial building.
Mats Nationwide allow customers to select mats by size, colour or features such as rubber backings and we have a made to measure service so that can buy in the confidence that the mat will be a perfect fit. If you wish to add branding or a logo to an indoor doormat order, we provide free visuals, with no obligation to buy. This way you can view the mat and make any adjustments before placing a final order.
Maintain & Clean Your Indoor Mats
Depending on the material chosen for the indoor entrance mat, the cleaning methods will be entirely different. In our indoor mats collection, we flag the doormats, which are suitable for machine-washing with an icon in case you require the ability to do this.
Any indoor doormat will need to be regularly cleaned to remain tidy and fresh, but also to be able to work effectively. It is well documented that cleaning will make the mat last longer and help protect your internal floors.
Most indoor entrance mats, including coir, simply require a regular hoover or brush to collect up the excess dirt and dust.
Indoor Door Mat Features
Indoor entrance mats are essential in reducing dirt, dust and grit from being tracked into premises, so speak to the team at Mats Nationwide as we aim to provide the very best matting at the very best prices and all with FREE UK delivery and international shipping for customers overseas. There are many important features to consider when looking to purchase indoor floor mats.
Custom Sized Indoor Mats
The size of an indoor entrance mat is very important, as choosing a mat that is too small will result in moisture not being captured at the entry points of the building. Large indoor mats will give visitors enough space to walk over and reduce the likelihood of dirt being walked inside. Remember to allow enough room for at least one rotation of the wheelchair wheel, or pushchair. With custom options available, finding a large doormat for indoors, that is a perfect size will not be an issue.
Small indoor mats are widely available, but for those who need an extra-large entrance mat made of premium materials that are absorbent and durable, we are the specialists. Speak to us not only about the size of mat required but about which materials will work best and if you could benefit from a matting system. We will help you find the ideal inside doormat for your property.
Durability
Indoor door mats at an entrance are likely to be handling a lot of footfall, but schools, supermarkets and airports will need a hard wearing mat compared to the entrance of a smaller shop, place of worship or office. Choose a mat that has a suitable pile, the correct rubber backing and is absorbent for high footfall areas.
Indoor Door Mat Backing
Indoor entrance mats are available with natural rubber backing or PVC backing. Natural rubber is heavier than synthetic materials, which will help keep the mat in place. Our indoor mat ranges come with options for carpeted floors or hard flooring.
We also supply mat well mats, which sit inside an inlay making them level with the rest of your flooring.
Choose a Suitable Colour
Finding a suitable colour for an inside doormat won't be difficult as we have a selection available to choose from. With custom branding and logos available, a new indoor doormat will fit right in with the interior space it is being purchased for.
TOP TIP – indoor mats are available flecked in colour which helps hide dirt and grime, a good solution for busy areas, as are darker colours.
What our customers say
Kawasaki Motors UK always seeks suppliers and business partners that offer quality competitive pricing, efficiency and excellent customer service. Mats Nationwide promised all of this and we've never been let down
Kawasaki Motors UK
Extremely happy with the service. Wonderful mat, exactly what we were looking for, excellent service, quick delivery!
Fairfax & Favor
Extremely quick turnaround and helpful approach, nothing was ever a problem. Thank you so much.
British Airways
Our personalised mats represent our brand and salon. They are easy to clean and can also be moved anywhere we need.
Toni & Guy
Amazing customer service, pleasure to deal with and nothing we asked was ever too much. Highly recommend!
The Gym Group
Very satisfied with the end product, the service has been excellent and the mat is easy to clean and maintain.
University Of Cumbria
Very satisfied with the end product and the service above all was excellent.
Holiday Inn
The logo mat is great thank you and the service we received from you was excellent.
Lord Alan Sugar - Amsprop Estates Ltd
I have nothing but positive feedback on the service and quality of the branded mats. Always a pleasure working with Mats Nationwide, and we will continue to do so in the future.
Swatch Group
Previous
Next